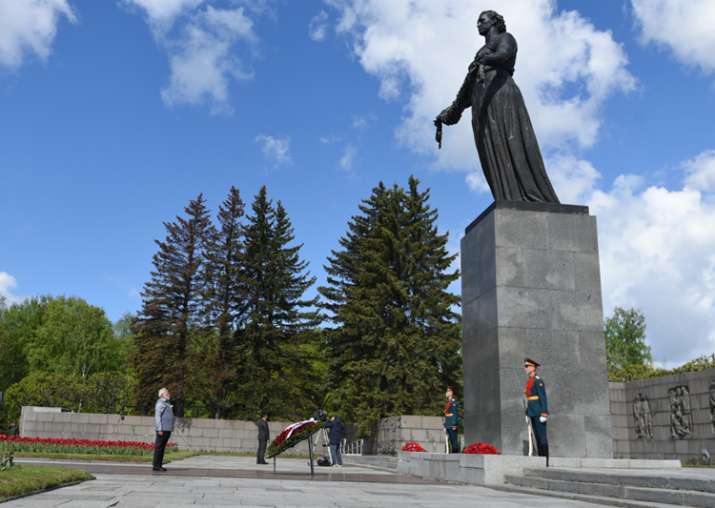 Ahead of the 18th Indo-Russia Summit at St Petersburg today, Prime Minister Narendra Modi visited the historic Piskarevskoye Memorial Cemetery here and paid floral tributes to the victims of World Wat II.
The Prime Minister drove to the monument on the north-eastern outskirts of the city that holds the graves of around five lakh who died during the Siege of Leningrad. At the cemetery, Modi placed flowers and then stood in silence for a few minutes. 
The Piskarevskoe Memorial Cemetery is the largest cemetery of the victims of the World War II. In 186 mass graves in the cemetery lie the 420,000 residents of the city who died of starvation, bombing, shelling, and 70,000 soldiers - defenders of Leningrad, the old name of St Petersburg. 
Paying homage to heroic defenders and immortal soldiers. PM @narendramodi lays wreath at the Piskarevskoye Memorial Cemetery pic.twitter.com/1BzbzekEok

— Raveesh Kumar (@MEAIndia) June 1, 2017
Modi arrived last evening in St. Petersburg, the former capital of imperial Russia that was founded by Czar Peter the Great in 1703, and was also known as Petrograd and Leningrad.
Later in the day, PM Modi and Russian President Vladimir Putin will attend the 18th Indo-Russian Summit. Both the leaders will hold discussions at the Oval Hall of the Konstantin Palace.
The meeting is held in accordance with the declaration of strategic partnership between India and Russia in October 2000 calling for the mechanism of annual summits. Both the countries enjoy a special and privileged strategic partnership at almost all sectors as building a strong and vibrant partnership with the country is one among the highest priorities of the foreign policy.
Furthering the relationship will be the signing of many agreements and memorandum of understanding relating to economy, trade and science and technology among many others.
India has been celebrating the 70 years of friendly relations by holding film shows, cultural events, seminars, exhibitions, conferences, interactions between universities and media exchanges.