Follow us on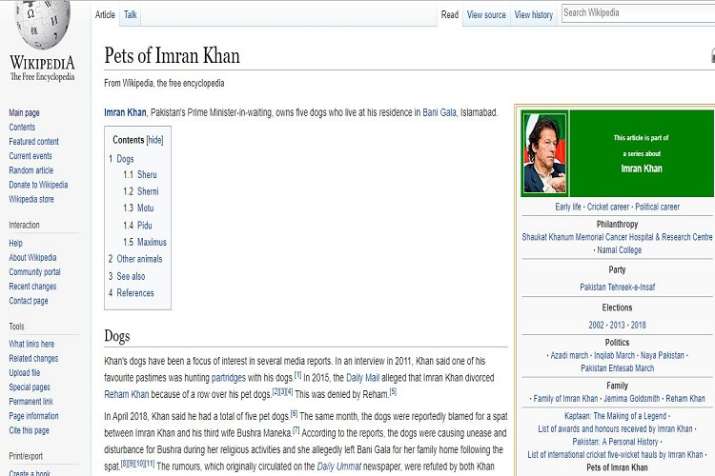 Pakistan's prime minister-in waiting Imran Khan's dogs have now their own Wikipedia page, according to a report in a Pakistani News website.
According to the Wikipedia page, Imran Khan has five pet dogs - Sheru, Sherni, Moti, Pidu and Maximus. 
"Wikipedia articles cover notable topics. If a topic or subject receives significant coverage in reliable secondary sources such as newspapers, then the topic/subject is considered notable and can have its standalone entry on Wikipedia," The Express Tribune quoted Saqib of Wikipedia's help desk as saying.
"Imran's pet dogs attracted press attention over a sufficiently significant period of time, so I think we can have a page on them, We already have several pages on United States presidential pets," The Express Tribune quoted the Wikipedia's help desk executive.
Khan's dogs have been a focus of interest in several media reports. In an interview in 2011, Khan said one of his favourite pastimes was hunting partridges with his dogs. 
In 2015, the Daily Mail alleged that Imran Khan divorced Reham Khan because of a row over his pet dogs. However, this was denied by Reham later. In her 2018 book, Reham Khan wrote that Pervez Musharraf had previously gifted several puppies to Imran Khan, and that Imran Khan was fond of "handsome dogs", says the Wikipedia page.