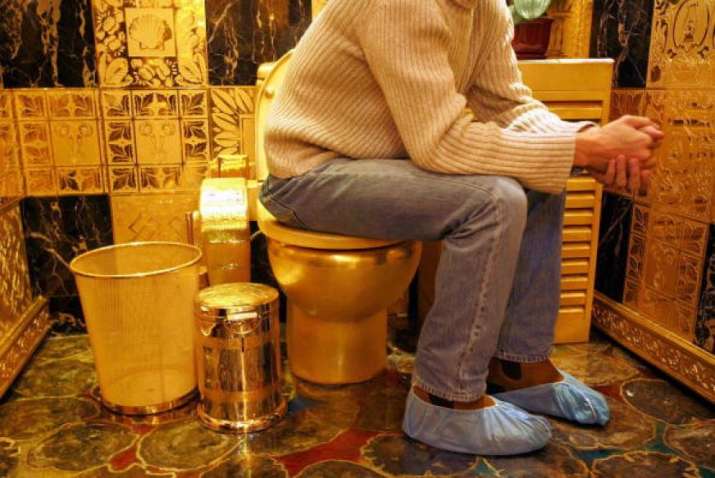 An 18-karat solid gold toilet seat will be made functional and may soon open to public at the Guggenheim Museum in New York, reports said.
The Guggenheim Museum here will install the fully functional, 18-karat solid gold toilet by Maurizio Cattelan in one of its public bathroom stalls.
According to the museum the artwork has made "available to the public an extravagant luxury product seemingly intended for the 1 percent".
"Its participatory nature, in which viewers are invited to make use of the fixture individually and privately, allows for an experience of unprecedented intimacy with a work of art," read the museum's description.
"There's the risk that people will think of it as a joke, maybe, but I don't see it as a joke," Cattelan told The New York Times in an interview earlier this year.
"You can lock the door and have your experience, whether that be just looking at the toilet or using it," Guggenheim publicist Molly Stewart told the New York Daily News.
Stewart said she believes this work, titled 'Maurizio Cattelan: America', to be the first time a toilet that is available to public use will be on display at the Guggenheim.
The lavatory masterwork marks an end to its creator's self-imposed retirement.
Cattelan, 55, walked away from the art world in 2011, right around the time the Guggenheim held a retrospective for his work. He said at the time the demands of the art world had sent his inspiration down the drain. The idea for "America" though, brought him roaring back to the scene.
Cattelan told the New York Times that he alluded to economic inequality as a theme of the toilet piece, but said the meaning is left up to the seer -- or the sitter.
"It's not my job to tell people what a work means. But I think people might see meaning in this piece," Cattelan said.
The work will replace one of the museum's Kohler toilets in a unisex bathroom.
It will even have its own full-time security guard — standing outside the restroom to "check in" occasionally and make sure it's not vandalised, Stewart said.
Doing one's duty, though, will not count as defacement.
"I don't think peeing in it or defecating inside it is considered vandalising the object," Stewart said.


"'America' will remain on display in the stall for the long term," she said.
(With inputs from agencies)