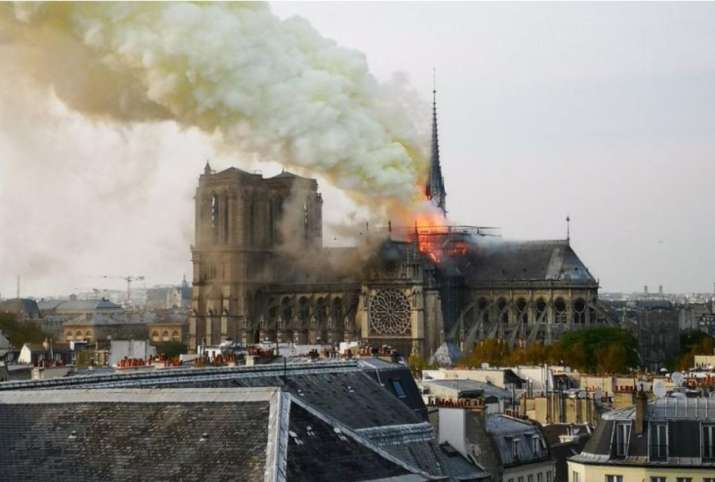 A fire broke out at Notre-Dame cathedral in Paris on Monday, the local fire department has said. The visuals from the site of the fire show large flames coming out of the cathedral with a massive cloud of smoke. The cathedral spokesperson told AFP that the roof frame of Notre-Dame "is going up in flames". The spire of the cathedral has collapsed due to the huge fire, deputy Paris mayor has said. 
The cause is not yet clear, but officials say it could be linked to renovation work. Last year, the Catholic Church in France launched an urgent appeal for funds to save the cathedral, which was starting to crumble. 
A pall of smoke has covered the city of Paris as the famed cathedral continues to burn billowing thick flames from its roof. The French capital's police department said no deaths have been reported from today's fire. The police department didn't say anything about injuries.
Flames and smoke are seen billowing from the roof at the landmark Notre-Dame Cathedral in Paris pic.twitter.com/Ei1ZraqH63

— AFP news agency (@AFP) April 15, 2019
The mayor of Paris, Anne Hidalgo, described it as a "terrible fire" and urged people at the scene to respect the boundaries set up by fire crews in order to ensure that they remain safe.
Un terrible incendie est en cours à la cathédrale Notre-Dame de Paris. Les @PompiersParis sont en train de tenter de maîtriser les flammes. Nous sommes mobilisés sur place en lien étroit avec le @dioceseParis. J'invite chacune et chacun à respecter le périmètre de sécurité. pic.twitter.com/9X0tGtlgba

— Anne Hidalgo (@Anne_Hidalgo) April 15, 2019
Meanwhile, French president Emmanuel  Macron has cancelled a major policy speech over Notre-Dame blaze. "Our Lady of Paris in flames. Emotion of a whole nation. Thought for all Catholics and for all French. Like all our countrymen, I'm sad tonight to see this part of us burn," he tweeted. 
Notre-Dame de Paris en proie aux flammes. Émotion de toute une nation. Pensée pour tous les catholiques et pour tous les Français. Comme tous nos compatriotes, je suis triste ce soir de voir brûler cette part de nous.

— Emmanuel Macron (@EmmanuelMacron) April 15, 2019
US President Donald Trump has also expressed concern over the fire. "So horrible to watch the massive fire at Notre Dame Cathedral in Paris. Perhaps flying water tankers could be used to put it out. Must act quickly!," the US president said on Twitter. 
So horrible to watch the massive fire at Notre Dame Cathedral in Paris. Perhaps flying water tankers could be used to put it out. Must act quickly!

— Donald J. Trump (@realDonaldTrump) April 15, 2019
the live feeds of #NotreDame in Paris are heartbreaking pic.twitter.com/BfhfLdTeWm

— Steve Beam (@RealSteveBeam) April 15, 2019
The Notre Dame is on fire, and it appears to be getting rapidly worse 👇👇pic.twitter.com/C3s8zydFER

— Henry Jones (@hthjones) April 15, 2019
#NotreDame ravagée par les flammes ==> tristesse infinie pic.twitter.com/6KZLdJzQC4

— L.D (@leo_dbs98) April 15, 2019
Built in 1160, Notre-Dame  is a medieval Catholic cathedral and is considered to be one of the finest examples of French Gothic architecture. The cathedral is know for its enormous and colorful rose windows and the naturalism and abundance of its sculptural decoration all set it apart from earlier Romanesque architecture. As the cathedral of the Archdiocese of Paris, Notre-Dame contains the cathedra of the Archbishop of Paris (Michel Aupetit). 12 million people visit Notre-Dame yearly, it thus being the most visited monument in Paris.
Watching #NotreDame go up in flames feels like God has turned his back on us. pic.twitter.com/6gbGicJrNx

— Chris Staiti (@realStaiti) April 15, 2019
The Flèche or Spire of the Cathedral, which was destroyed in the fire today, was located over the transept and altar. The original spire was constructed in the 13th century, probably between 1220 and 1230. It was battered, weakened and bent by the wind over five centuries, and finally was removed in 1786. During the 19th century restoration, Eugène Viollet-le-Duc decided to recreate it, making a new version of oak covered with lead. The entire spire weighed 750 tons.
(This is a developing story, last updated on 11:58 pm, April 15 (IST).)