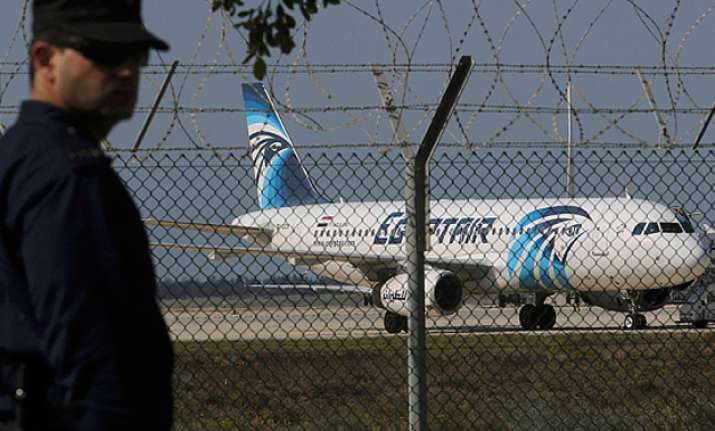 Larnaca (Cyprus): Putting an end to the daylong drama that unfolded following reports of the hijack of an EgyptAir plane earlier today, a Cyprus government official has confirmed that the hijacker has been arrested and all the hostages have been rescued safely.
An EgyptAir plane flying from Alexandria to Cairo was hijacked and forced to land in Cyprus on Tuesday. Cyprus foreign ministry identified the hijacker as Seif Eldin Mustafa and said it could not confirm if the man was rigged with explosives as claimed by the aircraft pilot earlier.
Egypt media said that the hijacker was seen emerging from the aircraft with his hands held up in the air. The last seven hostages – which included three passengers and four crew members – were also seen emerging out of the aircraft and running towards the security ring.
Soon after the aircraft touched down at the Larnaca airport, the hijacker began releasing everyone onboard following negotiations, civil aviation minister Sherif Fathy said. The final seven - three passengers and four crew - were seen coming out of the aircraft and running towards the security personnel who had surrounded the area.
Eighty-one people, including 21 foreigners and 15 crew, had been onboard the Airbus 320, Egypt's Civil Aviation Ministry said in a statement.
Egyptian Prime Minister Sherif Ismail said the man who hijacked an EgyptAir plane was an Egyptian national who had asked to meet European Union officials or to fly on to another airport. Ismail further told media that authorities would question the hijacker to ascertain his true motives, which remained a mystery.
While the president of Cyprus Nicos Anastasiades said that the EgyptAir hijack was not a politically motivated incident, there are some reports that suggest otherwise. The Cyprus Broadcasting Corporation (CyBC) and a private broadcaster, Antenna, said the hijacker was asking for the release of women prisoners in Egypt, suggesting a political motive.
He had also asked to get in touch with European Union officials, CyBC reported, citing a letter the hijacker dropped onto the apron at Larnaca airport.
An official with flight-tracking website FlightRadar24 said the plane showed no immediate signs of distress. The flight between Alexandria and Cairo normally takes about 30 minutes. There was some confusion about the hijacker's identity. At a news conference in Cairo, Egypt's Civil Aviation minister, Sharif Fathi, said this has not been confirmed.
Cyprus President said the hijacker seemed to have a personal motive and that the incident was "not related to terrorism".  
Cyprus state TV said that the hijacker wanted to contact his ex-wife, who is Greek-Cypriot and lives in Larnaca.