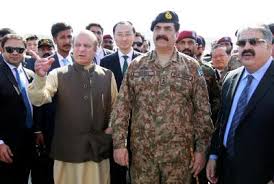 Two days after seven Pakistani soldiers were killed by the Indian Army in cross-border firing along the Line of Control (LoC), Prime Minister Nawaz Sharif today warned that efforts to harm his country's national security will be met with a "befitting response".
According to a report in 'Dawn', Nawaz Sharif made these remarks after inspecting a military exercise at Khairpur Tamewali near Bahawalpur.

 

"Exercise Raad ul Barq establishes that Pakistan is ready to confront any ambitious and reckless move by its enemies. These exercises reflect the preparedness of our armed forces to respond to any threat to national security," Nawaz Sharif said. 
Nawaz Sharif blamed India for the ongoing firing at the LoC and asked the international community to take note of it.

 

"The brutal tactics used to curb recent spontaneous and indigenous movement in Jammu and Kashmir have been counter-productive. Killing of civilians and soldiers along the LoC is another act of aggression that warrants international attention. The situation at the border remains sensitive due to India's grave violation of the ceasefire agreement," he said. 
"We cannot remain detached from recent developments in the region. Efforts to harm security and territorial integrity will be met with befitting response. The enemies of Pakistan have made their intentions well-known," he added.
Nawaz Sharif further said that Kashmir was a core source of tension between Pakistan and India.
He further said that the Kashmir issue should be "addressed in a sincere and comprehensive manner keeping in mind the aspirations of Kashmiri people and UN resolutions."