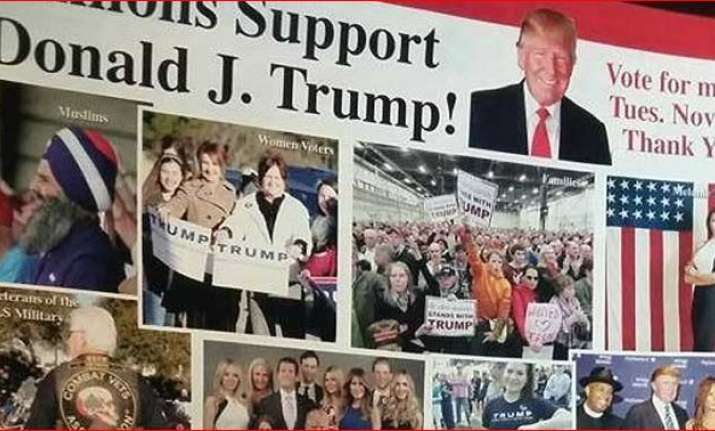 Republican presidential candidate Donald Trump's campaign team continues to have a rough time as far as making gaffes are concerned.
In its latest goof-up, an Indian-origin Sikh was misidentified as a Muslim supporter of Donald Trump in flyers distributed by the Republican presidential nominee's campaign team.
According to WTHR TV channel, Gurinder Singh Khalsa, a resident of Fishers city in Indiana who immigrated to the US from India, appeared in one of Donald Trump's handbill advertisements with the word "Muslim" superimposed above his picture.
The flyers, claiming that Gurinder Singh Khalsa was a Muslim who supported Donald Trump, were distributed in Ohio.

 

However, Khalsa vehemently denounced his portrayal as a Muslim and a Trump supporter.
"I am not Muslim and I am not supporting Trump," Khalsa was quoted as saying by the channel.
"He (Trump) is putting my picture, saying Muslims support him and I have nothing to do with it. I do not support Trump. Nobody even asked me to put that picture there. It was shocking, disturbing and this will create more confusion among people because they are sending it nationwide," he said.
Khalsa, who founded the Sikh Political Action Committee — a non-partisan group encouraging state lawmakers to include Sikhs in the conversation — said Sikhs have been mistaken as radical Islamists and have been targeted by hate crimes.
He said the committee wants to teach the public who they are, why they have beards and wear turbans. It is designed to help Americans understand the differences between his Sikh religion and others from around the world.
Khalsa said he knew he had to work to educate the general public, but "now we have to work hard to get national level politicians and the presidential candidate, he does not know the difference between Muslims and Sikhs and that is most disturbing".
There have been many gaffes from Trump, 70, and his campaign in the past. Earlier, Trump's refusal to back same-sex marriage on the basis that he only supports "traditional" unions was undermined when a TV journalist asked him what was traditional about marrying three times.
Trump had created uproar when he said "When Mexico sends its people, they're not sending their best. They're sending people that have lots of problems. They're bringing drugs. They're bringing crime. They're rapists".
(With PTI inputs)