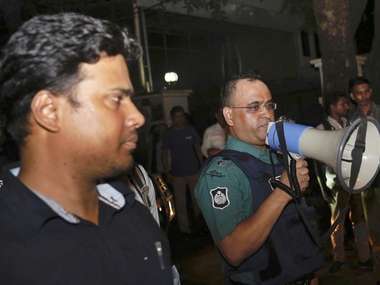 Nurul Islam Marzan, the Neo-JMB leader, one of the key figures behind the Gulshan café attack, has been killed in a gunfight with the police in the Bangladesh capital, a senior police officer in Dhaka said on Friday.
The incident took place at Mohammadpur in Dhaka around 3 a.m. in Beribadh area, Dhaka Metropolitan Police's counter-terror unit chief Monirul Islam told bdnews24 on Friday morning.
The bodies of Nurul Islam Marzan and another suspected extremist were found after officers raided a property in Dhaka's Rayer Bazar neighbourhood, a spokesman for the Dhaka Metropolitan Police told AFP.
Marzan was killed alongside an accomplice, the police added.
Marzan, who was aged around 30, was "one of the masterminds" of the siege at the upmarket Holey Artisan Bakery on 1 July last year in which 18 foreign hostages were shot or hacked to death.
The Islamic State organisation claimed responsibility for the cafe attack, posting images of the carnage as it happened. But Bangladesh police rejected the claim, instead blaming a new offshoot of the Jamayetul Mujahideen Bangladesh (JMB), a homegrown militant outfit.
IANS inputs