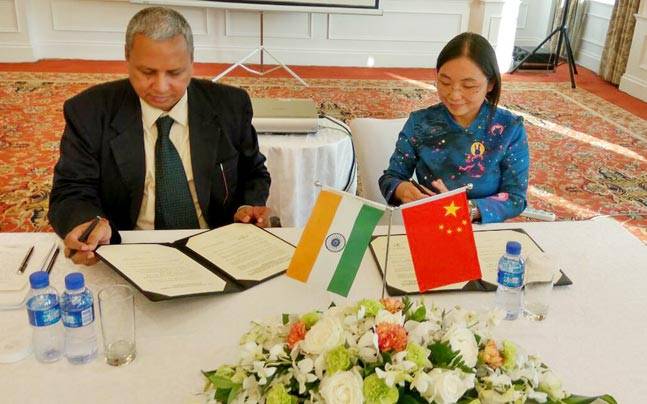 As the demand to boycott Chinese goods and bank on Swadeshi items grows louder, a high-level state government delegation from PM Narendra Modi's home state Gujarat is currently camping in China to woo investors.
According to a report in Times of India, senior government officials including representatives of 20 companies are on a five-day visit to China in the run-up to next year's Vibrant Gujarat Global Summit (VGGS).
Sanjay Prasad, Principal Secretary, agriculture and co-operation, Gujarat government, said that the delegation's objective is to strengthen the business relationship between both the countries.
"Our delegation's objective is to strengthen the relationship between China, Hong Kong and India where Gujarat will play a key role by offering avenues across sectors to enhance business relationships," the TOI report quoted him as saying. 
A number of business-to-business (B2B) meetings have already taken place, the report added.
Defending the decision to send delegation to China, PK Taneja, Additional Chief Secretary, state industries and mines department, said that the officials have gone to China to attract investment in India and not to buy Chinese products. 
"We do not encourage purchase from there (China). If China wants to invest in Gujarat and produce from here, we welcome them," Taneja said. 
It should be noted that several local industry associations have come forward to support Gujarat Chamber of Commerce and Industry's (GCCI) call to boycott Chinese products.
GCCI had called for boycott of Chinese products, saying that China is 'siding with Pakistan against us (India). 55 local industry associations have decided not to import goods from China by supporting call to boycott Chinese products . The decision was taken after China used its veto to stall India's bid for the Nuclear Suppliers Group (NSG) membership and also halted UN from designating Jaish-e-Mohammad chief Masood Azhar as terrorist.
Gujarat was ranked number 1 in 'Ease of Doing Business' in 2015 among all states of India in a joint study by the government of India and the World Bank, Prasad told PTI.
At a time when PM Modi, then Gujarat Chief Minister, was not welcome in the US owing to the controversy surrounding Gujarat riots, China rolled out a red carpet for him.
Also, Chinese President Xi Jinping was the first foreign dignitary to call Narendra Modi soon after the latter took oath as the Prime Minister and followed it up by sending a delegation to India.
During his time as Chief Minister of Gujarat, Modi visited China four times, where he actively courted Chinese investment as part of his plan for boosting Gujarat's economy. 
A 2014 article in Economic Times noted that the majority of China's $900 million in investments in India are also centered in Gujarat.