Follow us on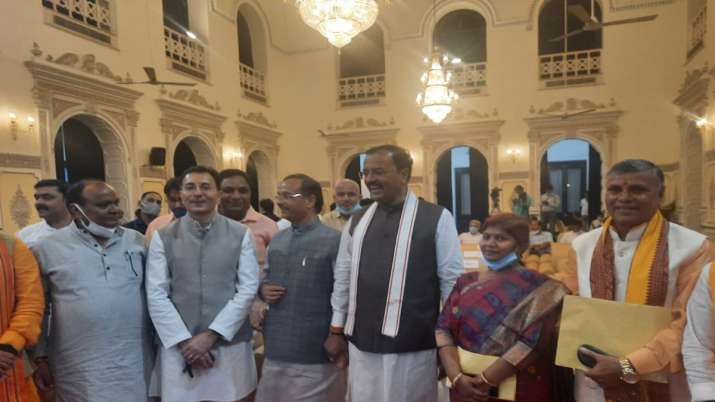 The Uttar Pradesh government's cabinet expansion was held today as seven new ministers take the oath of office, and get inducted into Yogi Adityanath's cabinet. The oath-taking ceremony took place at Raj Bhawan, Lucknow.
The Yogi government has 53 ministers, including 23 cabinet ministers, nine ministers of state (independent charge) and 21 ministers of state at present. It could have accommodated seven more ministers which was done during the cabinet expansion ceremony.
Uttar Pradesh Cabinter Expansion | Highlights
A total of 7 new ministers took the oath of office as part of Yogi Adityanath's cabinet expansion. 
Jitin Prasada, who left the Congress party and joined BJP in June this year, takes oath as a minister in the Yogi Adityanath-led Uttar Pradesh government.
MLA Chhatarpal Gangwar takes oath as a Minister of State (MoS) in the Uttar Pradesh Government.
Paltu Ram, MoS SC, Balrampur; Sangeeta Balwant Bind MoS Bind, Ghazipur; Dharamveer Prajapati MoS, Agra; Sanjeev Kumar Gaur ST Sonbhadra; and Dinesh Khatik MoS SC, Meerut also took the oath of office.  
Preparations are underway in Lucknow Raj Bhavan as swearing-in of new ministers to take place today as part of CM Yogi Adityanath cabinet expansion.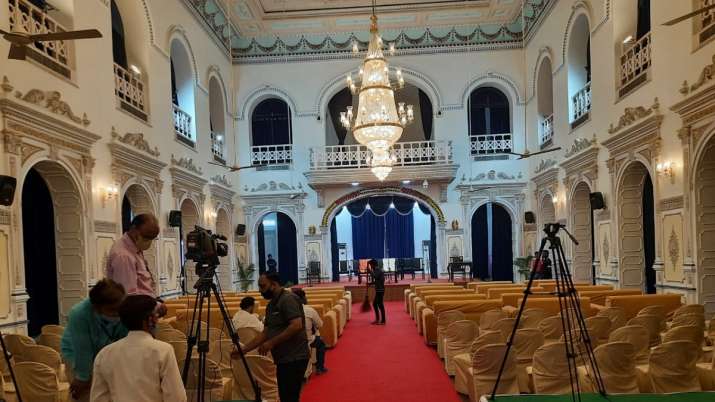 The Cabinet expansion appears a likely attempt to balance caste and regional aspiration, months ahead of the crucial assembly polls.
Officials, however, remained tight-lipped over the number and names of ministers to be sworn in amid the name of Congress Brahmin leader Jitin Prasada, who switched over to the saffron party, is doing rounds.
Sanjay Nishad's name, whose party NISHAD -- Nirbal Indian Shoshit Hamara Aam Dal -- will contest the 2022 UP assembly elections in alliance with the BJP is also making rounds.
In the 2017 UP Assembly elections, the BJP had won 312 seats out of the 403 seats.
Its ally Apna Dal (Sonelal) had won nine seats.
The Suheldev Bharatiya Samaj Party (SBSP) too had contested the 2017 assembly polls in alliance with the BJP and had won four seats but it had walked out of the alliance in 2019.
All discussions on the subject have reportedly been held with chief minister Yogi Adityanath and other senior UP leaders, including state BJP chief Swatantra Dev and general secretary (organisation) Sunil Bansal.
The maximum strength of the UP Cabinet can be 15 per cent of the total strength of its Assembly. The Uttar Pradesh Assembly has 403 seats.
Also Read: Yogi Adityanath to address 25,000 farmers at Kisan Sammelan in Lucknow