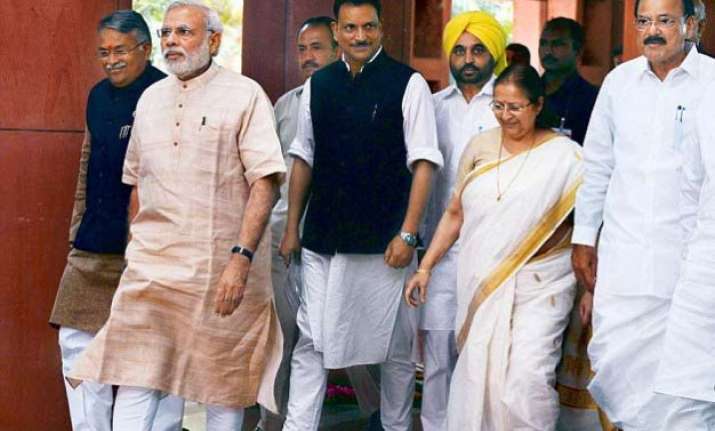 New Delhi: Government today appeared to be keeping its options open on convening a special session of Parliament for enacting the GST law on which Finance Minister Arun Jaitley declared that it was determined to stick to the rollout deadline of April 1, 2016.
"The CCPA (Cabinet Committee on Parliamentary Affairs) has decided not to prorogue the session as yet. We will make our own assessment," he told at a press conference shortly after the Monsoon Session of Parliament ended in a virtual washout with the government failing to get the GST bill passed.
New Delhi: Prime Minister Narendra Modi on Thursday lashed out at the Congress for disruption of Parliament, accusing the principal opposition party of displaying attitude of Emergency days.
"The Congress is desperate as it wants power to remain concentrated with one family," the Prime Minister told a meeting of National Democratic Alliance MPs.
Islamabad: The NSA level talks between India and Pakistan will take place on August 23 in New Delhi, Islamabad confirmed today.
India had earlier proposed August 23-24 for the meeting between Indian National Security Advisor Ajit Doval and Pakistan Prime Minister's Adviser on National Security and Foreign Affairs Sartaj Aziz in New Delhi
New Delhi: Launching a scathing attack on the Modi government over the lingering strike in FTII, Rahul Gandhi today alleged educational institutions were being "captured" by the RSS and only those "singing praises" of the Prime Minister and BJP are being "placed on top".  
Gandhi, who led a Congress delegation to President Pranab Mukherjee to protest the appointment of actor Gajendra Chauhan as chairman of FTII, said creativity was being "crushed" by the desire of the RSS to "control" the education system.  
Mumbai: In a major relief to Maggi noodles manufacturer Nestle India Ltd, the Bombay High Court today quashed the orders of the Indian food regulators banning the nine variants of noodles in the country after observing that principles of natural justice were not followed.
A division bench of the high court allowed Nestle to go in for fresh testing by sending five samples of each variant of noodles to three independent laboratories in Punjab, Hyderabad and Jaipur which were accredited with National Accreditation Board for Testing and Calibration Laboratories (NABL).