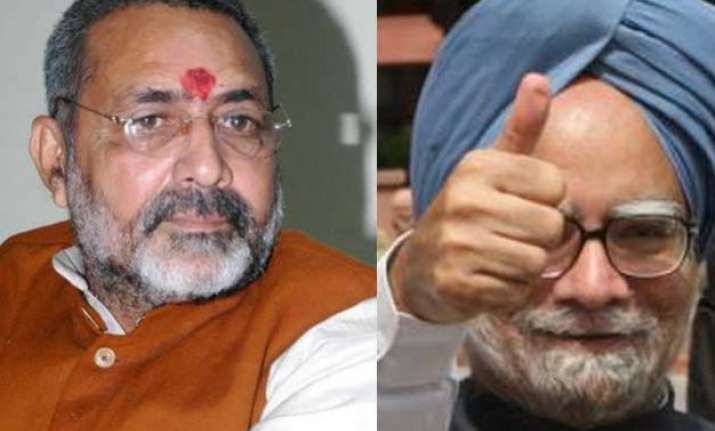 Union Minister Giriraj Singh today courted another controversy by making a shocking remark about colour of Congress president Sonia Gandhi's skin.
He said that said it was the colour of Sonia's skin that made her the Congress chief.
"If Rajiv Gandhi had married a Nigerian and if she wasn't white skin, would Congress accept her as a leader?" the BJP MP from Bihar said.
Though, he later expressed regret over his racist comments against Congress President Sonia Gandhi.
In a big relief to former Prime Minister Manmohan Singh, the Supreme Court today stayed summoned issued to him by a trial court in a case related to coal scam.
Hearing a petition filed by Manmohan Singh against summons issued to him by a trial court, the Supreme Court decided to gave him a temporary relief by staying the summons.
Mustafa Kamal today resigned from the position of President  of International Cricket Council (ICC). He announced this decision at the Shahjalal International Airport after returning back home from Australia.
"My resignation is ready. It will be sent to ICC. From now, I am not the present ICC President but a former ICC President," he said.
"It's not possible for me to work with those who work unconstitutionally," he added.
A HRD panel, set up to review the working of the University Grants Commission (UGC), has suggested scrapping of the regulator citing its failure to fulfill its mandate and not being able to deal with emerging diverse complexities.
The panel, which is headed by former UGC chairperson Hari Gautam, also stated that any attempt to revamp UGC will be a complete futile exercise
After JD (U) leader Sharad Yadav's remark on complexion of South Indian women in parliament, Goa's Chief Minister Laxmikant Parsekar has allegedly advised protesting nurses not to sit under hot sun as it could darken their complexion and affect their marital prospects.
Anusha Sawant, one of the protesting nurses said, "When we met the chief minister over our demands at Ponda (on Tuesday), he said the girls should not sit on hunger strike in hot sun as their complexion will become dark and they will not find a good bridegroom."