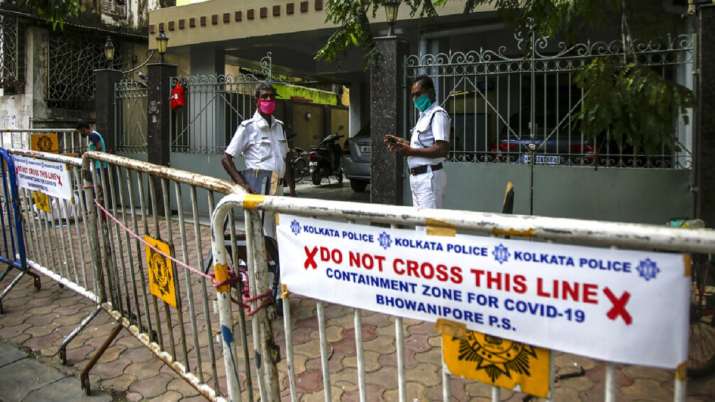 India coronavirus cases have crossed 10.38 lakh-mark, taking confirmed patients toll to 10,38,716 including 3,58,692 active cases, 6,53,751 recovered and 26,273 deaths, according to health ministry's figures released on Saturday.
Maharashtra, the worst-hit coronavirus state, Friday notched its second-highest one-day number of Covid-19 infections at 8,308, besides 258 deaths, four months after the first fatality was recorded in the state on March 17, health officials said. The number of deaths in the state remained above the 200-mark at 258 on Friday, lower than the previous one-day record toll of 295 notched on July 4.
However, Friday's new cases tally at 8,308 was lower than the peak of 8,641 recorded on July 16. With the fresh fatalities, the state's death toll went up from 11,194 a day earlier to 11,452, while the total cases touched 292,589, both highest in the country.
According to Friday's figures, every hour, roughly 11 deaths were recorded and a staggering 346 new cases added in the state. The recovery rate in the western state decreased from 55.63 per cent a day earlier to 54.81 per cent on Friday, while the mortality (death) rate stood at 3.91 per cent.
Spelling relief, the Centre said that Mumbai's recovery rate is an impressive 70 per cent of the total cases, which is 7 percent higher than the national average and also 15 per cent higher than the state's recovery rate.
State-wise list of coronavirus cases, deaths in India
| Name of State / UT | Active Cases* | Cured | Deaths** | Total Confirmed cases* |
| --- | --- | --- | --- | --- |
| Andaman and Nicobar Islands | 52 | 142 | 0 | 194 |
| Andhra Pradesh | 19814 | 20298 | 534 | 40646 |
| Arunachal Pradesh | 431 | 175 | 3 | 609 |
| Assam | 6490 | 14105 | 51 | 20646 |
| Bihar | 8767 | 14621 | 201 | 23589 |
| Chandigarh | 169 | 480 | 11 | 660 |
| Chhattisgarh | 1429 | 3512 | 23 | 4964 |
| Dadra and Nagar Haveli and Daman and Diu | 182 | 401 | 2 | 585 |
| Delhi | 17235 | 99301 | 3571 | 120107 |
| Goa | 1337 | 1946 | 21 | 3304 |
| Gujarat | 11351 | 32973 | 2106 | 46430 |
| Haryana | 5752 | 18718 | 327 | 24797 |
| Himachal Pradesh | 382 | 1024 | 11 | 1417 |
| Jammu and Kashmir | 5968 | 6558 | 231 | 12757 |
| Jharkhand | 2305 | 2570 | 46 | 4921 |
| Karnataka | 33211 | 20757 | 1147 | 55115 |
| Kerala | 6033 | 4995 | 38 | 11066 |
| Ladakh | 177 | 973 | 1 | 1151 |
| Madhya Pradesh | 5870 | 14514 | 697 | 21081 |
| Maharashtra | 120780 | 160357 | 11452 | 292589 |
| Manipur | 637 | 1163 | 0 | 1800 |
| Meghalaya | 335 | 66 | 2 | 403 |
| Mizoram | 122 | 160 | 0 | 282 |
| Nagaland | 551 | 405 | 0 | 956 |
| Odisha | 4697 | 11330 | 83 | 16110 |
| Puducherry | 793 | 1014 | 25 | 1832 |
| Punjab | 2830 | 6373 | 239 | 9442 |
| Rajasthan | 6617 | 20626 | 546 | 27789 |
| Sikkim | 176 | 90 | 0 | 266 |
| Tamil Nadu | 47785 | 110807 | 2315 | 160907 |
| Telangana | 13388 | 28705 | 403 | 42496 |
| Tripura | 679 | 1684 | 3 | 2366 |
| Uttarakhand | 1030 | 3021 | 51 | 4102 |
| Uttar Pradesh | 16445 | 27634 | 1084 | 45163 |
| West Bengal | 14709 | 22253 | 1049 | 38011 |
| Cases being reassigned to states | 163 |   |   | 163 |
| Total# | 358692 | 653751 | 26273 | 1038716 |