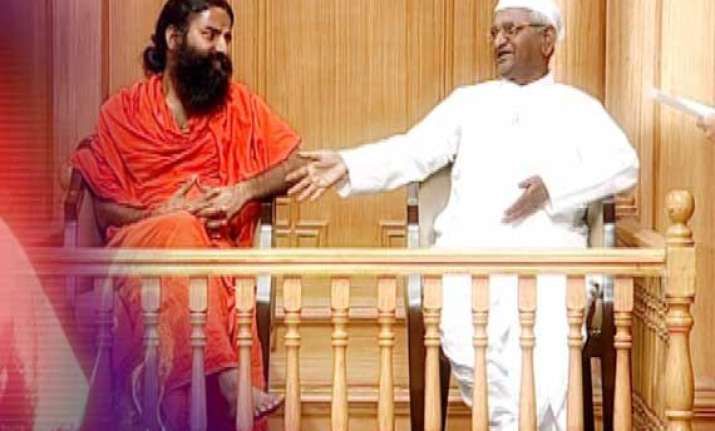 New Delhi, June 9:  Yoga guru Swami Ramdev, alongwith Gandhian Anna Hazare, plans to hold a one-crore strong rally in Delhi on Quit India Day (August 9), to press for demands for bringing back offshore black money and setting up of a Jan Lokpal.
Replying to questions in India TV's show Aap Ki Adalat, Ramdev said, nearly one crore people will march to Delhi on August 9 and we will force the government to accept our demands.  
Anna Hazare said, the Aug 9 movement would trigger a "second revolution" and he and his supporters would take part in the movement.  
Asked by
Rajat Sharma
why five fasts by Anna Hazare, and similar agitations by Ramdev have failed to yield results, Ramdev said: "Just wait. After darkness, comes light, after a dark winter, comes spring. Ya to hum rahenge ya yeh bhrashtachari rahenge (either we will be there or the corrupt people will be there)." 
Ramdev promised to send his supporters to Team Anna's fast planned on July 23 in Delhi.  
The feisty yoga guru said, the present UPA government was presently on "ventilator", adding that unless the Prime Minister rejigged his cabinet, his government would not last.  
Asked whether the agitation being planned was with an eye on the 2014 Lok Sabha polls, Ramdev said: "2014 is two years away. This government's terehvin (13th day Hindu ritual after death) will take place in 2013 itself." 
Asked what was the guarantee that the BJP would bring back black money and set up Jan Lokpal if it came to power, Ramdev  said: " Irrespective of whichever party that may come to power after polls, if it refuses to act on black money and Lokpal issues, it will meet the same fate as the Congress." 
To this, Anna Hazare added: "Doodh ka jala chaachh phoonk-phoonk kar peeta hai", meaning that the next government would be more careful on such issues.  
Asked if Congress accepted their demands on black money and Lokpal, will they agree to support the ruling party in the next elections, Anna Hazare said: "Why not? We are not agitating only for the sake of agitation. If they agree to our demands, we will seek vote for the Congress in the elections."  
To this, Ramdev added: "We will tell the voters the good work that the Congress is doing by bringing back black money and setting up the Lokpal. We will work for their victory."   
Both Hazare and Ramdev  said they would continue to work jointly in future.  "Hamare dil miley hain, isiliye to saath hain", said Hazare. 
On BJP's tainted leaders like Yeddyurappa and others, Ramdev said: "Those leaders who are tainted must prove themselves innocent. For this, we require electoral reforms soon." 
On Team Anna's allegations relating to coal scam, Anna Hazare said: "Let the Prime Minister set up a group headed by a retired judge to probe the scam." 
Ramdev denied that Team Anna member Arvind Kejriwal left his meeting in a huff on Sunday last.   
"Actually, we had decided not to name people. After nearly 20 to 25 persons were named during the speeches, we felt that criticisms of individuals would overshadow the core issues. As for Arvind Kejriwal, he had sought permission both from Annaji and myself to leave as he was not feeling well", said Ramdev.
India TV's Aap ki Adalat show featuring Anna Hazare and Swami Ramdev will be telecast on Saturday (June 9) at 10 pm and on Sunday (June 10) at 10 am and 10 pm.