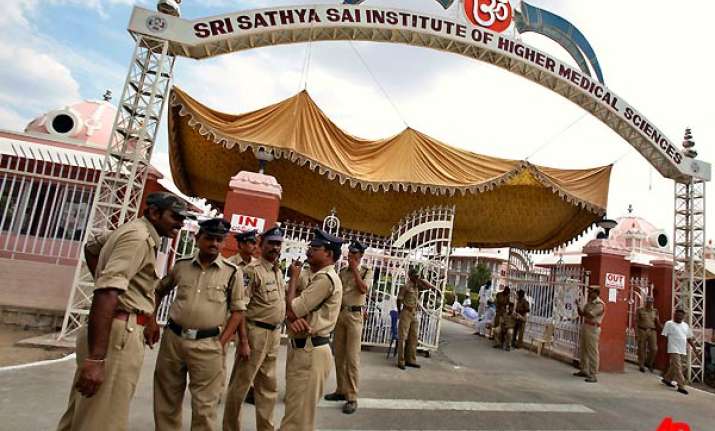 Puttaparthi, AP, Apr 22:  Nearly 2,000 personnel, drawn from several districts including Anantapur, Kurnool and Chittoor,  have been deployed in Puttaparthi since Thursday night because of the situation arising out of the deteriorating health of Sathya Sai Baba.

 Nearly 1,400 personnel  were already deployed across Puttaparthi earlier.This small pilgrim town in Anantapur district, about 150 km from Bengaluru, has been placed under police cordon.

 Hundreds of policemen drawn from different parts of Anantapur and other districts in Rayalaseema region and other regions of Andhra Pradesh have been rushed to the town as the authorities began taking steps to tackle any contingency.An uneasy calm prevails in this town of 25,000 people as shopkeepers downed the shutters while schools and colleges remained closed.

The news of Sathya Sai Baba's deteriorating condition has caused concern to his devotees in India and abroad who see him as the incarnation of god.Police have imposed prohibitory orders undersection 144 of the Indian Penal Code, banning assembly of five or more persons in the town.

The forces have also taken control of the Sathya Sai Super Speciality Hospital at Prashanti Gram village on the outskirts of the town. All the roads leading towards the hospital have been sealed.

Anxiety and despair is writ large on the faces of devotees thronging the town from surrounding villages and other parts of the country.Sathya Sai Baba's disciples were busy in prayers at Prashanti Nilayam, his ashram. However, the policemen have outnumbered devotees in some parts of the town and the police siren has replaced usual sounds of 'bhajans'.

Police have also erected barricades on all the roads leading to the town and are checking every vehicle entering the town.According to police sources, five layers of security have been thrown around the town to prevent any incident.Police have also beefed up security around the airport, railway and bus stations and other installations in the town.

Senior police officials from all parts of Rayalaseema are rushing to Puttaparthi. Anantapur range Deputy Inspector General of Police Charu Sinha and Anantapur Superintendent of Police Shahnawaz Qasim are camping in the town and supervising the security arrangements.