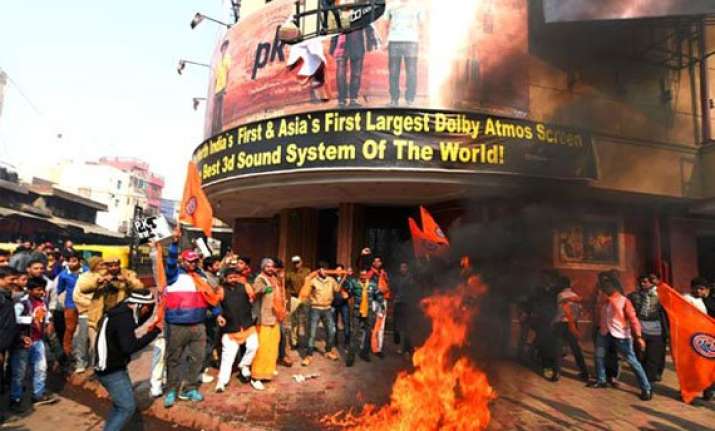 Ahmedabad: Demanding a ban on Aamir Khan-starrer movie 'PK' for allegedly painting Hindu Gods and godmen in a bad light, right-wing outfits held protests in different parts of the state for the second day on Tuesday.  
Vishwa Hindu Parishad (VHP) activists tore and burnt 'PK' posters at Inox multiplex in Jadeswar area in Bharuch town demanding a ban on the screening of the movie.  In Raopura area in Vadodara several Bajrang Dal activists were detained "for breaching law and order situation," a police officer said.
VHP General Secretary of South Gujarat Niral Patel said, "Sixteen of our activists were detained by the police today in front of Pratap cinema near Gandhinagar-gruh area in Vadodara, when they were burning an effigy of Aamir Khan while protesting against his movie 'PK' as it hurt our religious sentiments."
When asked why they were against the movie, Patel said, "I have not watched the movie, but as people said that Hindu religion and gods are projected in a satirical manner, we decided to protest against it and it will be continued."
A VHP office-bearer said that Bajrang Dal workers protested against the screening of the movie in Dhansura area near Modasa town in Arvalli district also, where they also raised slogans against Aamir Khan and the director of movie Rajkumar Hirani.
Similar protests were held in Patan, Sabarkantha and Kutch districts, where the workers were demanding that the movie's screening be immediately stopped, he said.  
Yesterday, 20 Bajrang Dal workers had vandalised two theaters in Ahmedabad city for not following their "diktat" of stopping the screening of the movie.