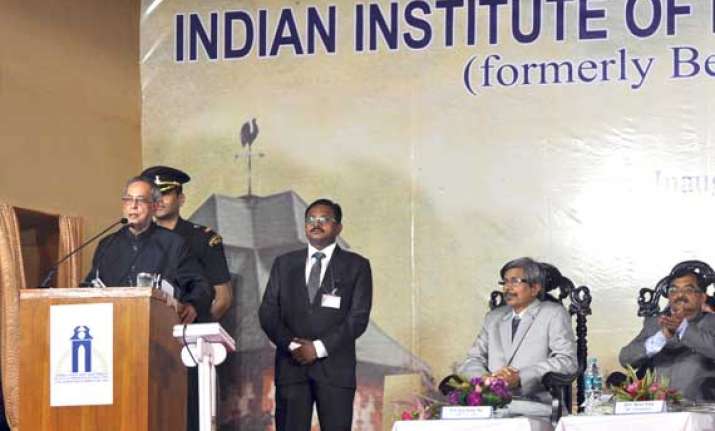 Kolkata: Expressing concern over India's inability to produce paper or ink for its currency notes, President Pranab Mukherjee on Sunday said the importing of the materials exposed the country to the menace of fake Indian currency notes.
Addressing at the inauguration of the Institute of Engineering Science and Technology (IIEST) at Shibpur in West Bengal's Howrah district, the President wondered why India, which can launch other countries' satellites, lagged behind in the field of currency printing.
"I wonder how can a country which is technologically so advanced that its satellite system can launch other country's satellites, is being exposed to unscrupulous elements who want to destroy the economy through FICNs (fake currency notes)," he said.
"Some of these questions are staring at us and our students will have to find an answer to this," the President added.
Referring to the technical challenges that India faced in the field of printing currency, Mukherjee reiterated his concern over the standard of higher education in the country.
"The standards of our higher educational institutions compared to international benchmarks are abysmally low," he said, admitting that he has been repeating it at every academic congregation 'like a parrot'.
Yet again lamenting the absence of an Indian university or institute in the list of top 200 educational facilities of the world, Mukherjee pointed that no academician working in an Indian academic institution has been able to win a Nobel Prize since the 1930s.
"My question is that why can't we create that ambiance and opportunities in the Indian university," he asked.