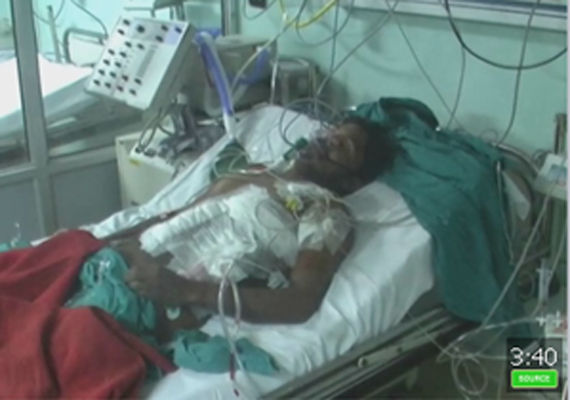 Rohtak, Haryana, March 11 : In a major surgery, doctors at the Post-Graduate Institute of Medical Sciences here on Saturday extracted two  iron rods, three meters and five meters in length from the body of a patient.
 
Twentyseven-year-old Navin, hailing from West Bengal, worked as a mason (mistry) at the Government Water Words in Dev Colony here when he suddenly fell from a height of eight meters.
 
The worker fell in iron rods below, and at least two iron rods pierced his body.
 
Instead of extracting the iron rods from his body which could have caused excessive building, they cut off the iron rods and rushed him to PGI Rohtake.
 
After a six-hour-long surgery, both the iron rods were extracted from Navin's body and he got a fresh lease of life.
 
Says Navin's wife: "He said he would come down to take his meals after finishing his work, but suddenly we heard him screaming and saw the two iron rods pierced in his body."
 
Dr. S. H. Lohchhab, who headed the team of doctors for the surgery said , when we extracted the first iron rod, we heved a sigh of relief, and the next one was easy.
 
He advised all concerned never  to try to extract any metal piercing a body during an accident, and try to bring the patient to the hospital at the earliest.