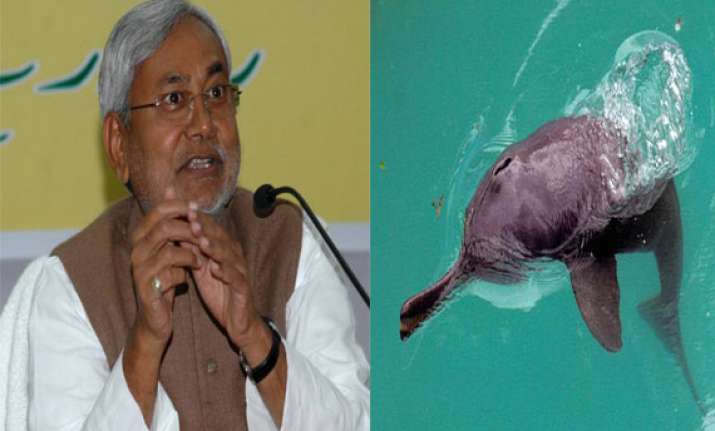 Patna: Expressing concern at the declining number of dolphins in Ganga due to pollution, Bihar Chief Minister Nitish Kumar today proposed setting up a dolphin research centre to protect the national aquatic animal.
"The number of Gangetic dolphins have deceased in the Gangetic regions due to growing pollution in the river Ganga," he said at the Dolphin Day function observed annually here since last year to raise awareness among the people about the aquatic animal and seek their help for its conservation.
Expressing commitment for protection and conservation of the national aquatic animal, Kumar said that his government has proposed to set up a dolphin research centre in Bihar for safety of the animal and raise its number in the long-term.
The chief minister lauded Prof R K Sinha, popularly called 'Dolphin Man', and others for their rescue works for the national aquatic animal in the Gangetic region and said the local fishermen should also be co-opted as partners to protect and conserve dolphins.
Kumar also expressed deep anguish at the rising pollution in river Ganga and appealed against drainage of polluted waters of the urban drains in the river to sustain aquatic environment in which the dolphins could also flourish.
He regretted that unhindered flow of the river Ganga in its course has been adversely affected due to a host of reasons, including construction of Farakka dam.
Kumar reiterated his government's commitment to increase forest cover at 15 per cent of the land area over the next five years and said trees and saplings will be planted to meet the target.
A green mission has been set up to implement and monitor forest coverage in Bihar, he said and urged the people to draw inspiration from the people of Dharhara village in Bhalgalpur where the villagers plant trees to mark the birth of daughters.
On this occasion, the Chief Minister released a book written by the 'Dolphin Man' titled 'The Gangetic Dolphin' and a 12-minute documentary on the 'Operation Dolphin at Baldiyahaat'