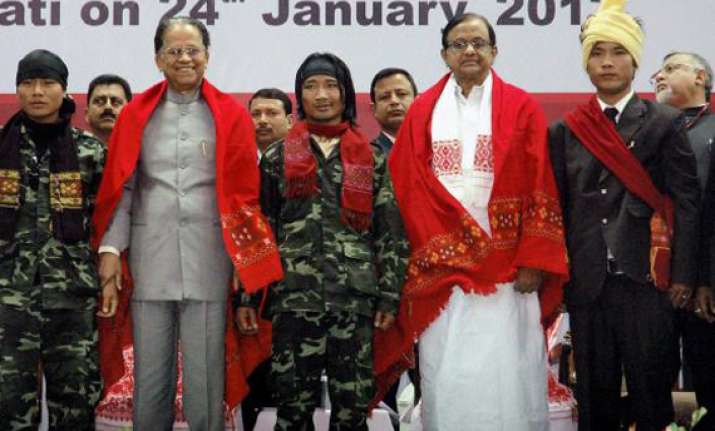 Guwahati, Jan 24: In one of the largest surrender ceremonies in the North East region, 1855 militants belonging to nine groups today bid a farewell to arms before Union Home Minister P Chidambaram and received roses for weapons turned in.

Among them were five major ethnic groups of the Adivashi Santhal outfits operating in upper Assam and three belonging to the Kukis besides a Hmar group inhabiting central Assam.

"Today is a historic day. It is not often that one witnesses a day when so many groups which had earlier taken to the path of militancy decide to take the path of peace, reconciliation and brotherhood," Chidamabaram said.

"I want to assure all of you that the governments of India and Assam will treat you as equal citizens of India with honour and dignity.

"The Government of India has welcomed the militants back to the fold. We believe we are a republic and a democracy where every voice deserves to be heard. Everyone is entitled to live with honour," said Chidamabaram at the function where Assam Chief Minister Tarun Gogoi, Army GoCs of 3 and 4 Corps, and Director General of Police Jayant Narayan Chowdhury were also present.

"All differences can be settled through talks, consultations, efforts and endeavour. No knot can be left untied through patience," the home minister said. 

The underground groups were Adivashi Peoples Army (APA), All Adivashi National Liberation Army (AANLA), Santhal Tiger Force (STF), Birsa Commando Force (BCF), Adivashi Cobra Military of Assam (ACMA), Kuki Liberation Army (KLA)/Kuki Liberation Organisation (KLO), Hmar People's Convention (HPC), United Kukigam Defence Army (UKDA) and Kuki Revolutionary Army (KRA).

Already in ceasefire agreement with the government, the nine groups fighting either for secession or for greater autonomy submitted charters of demand to the government.