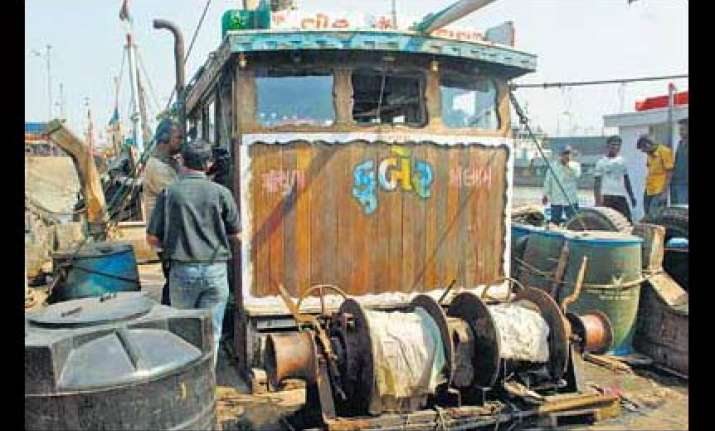 Mumbai, Oct 25 (PTI) Fishing vessel 'Kuber' by which ten Pakistani terrorists, including Ajmal Kasab, arrived here to carry out 26/11 terror attacks became the focal point of arguments today after the Bombay High Court raised several queries regarding it.
Justices Ranjana Desai and R V More, who are hearing arguments on confirmation of death sentence awarded to lone surviving Pakistani terrorist Ajmal Kasab, asked government counsel Ujjwal Nikam for exact details of when and how the boat was traced.
Mumbai Police had claimed that Kasab and nine other terrorists started their journey from Karachi in 'Al-Husseni' boat, and then hijacked 'Kuber' in Indian waters and landed at Badhwar park in south Mumbai before going separately in pairs to their assigned locations.
According to the prosecution, Kasab had confessed that he had killed the navigator of 'Kuber', Amar Singh Solanki, by slitting his throat and kept the body in the cabin.
To reinforce his arguments, Nikam today read out Kasab's statement given to police and the panchnama  of 'Kuber' when Kasab pointed out to Solanki's body in the cabin.
Nikam informed the court that the boat was sighted by coastguard officials at 1640 hours on November 27 about six nautical miles away from the shore and was brought to Sasoon dock after which the panchnama was done in the intervening night of November 27 and 28.
"We want to be very sure and clear because there is some confusion in our mind. This is a crucial aspect. Even the trial judge has discarded the evidence of this panch witness," Justice Desai remarked insisting the prosecution to provide all the details by tomorrow.
"The trial judge discarded the panch evidence after observing that the prosecution had failed to prove that the Kuber boat was not tampered with once it was anchored at Sasoon dock," Nikam told the court.
According to normal practice, once an accused reveals to the police about a weapon or any other evidence used in the crime, police takes the accused along to trace the evidence.
"However, in this case, it seems like the police went and found the boat based on the clues given by the accused and then came back and took Kasab to the boat and asked him to show the body. This might have been done due to the prevailing conditions and Kasab's injuries," the court observed.
"If the trial judge has disbelieved this panch evidence, what has he said about the recovery of mobilephones, GPS and satellite phones from the boat as all this is linked by the prosecution to the main conspiracy," it asked.