India's prestigious Jawaharlal Nehru University (JNU) came under violent attack by masked mob Sunday evening, which injured several students and faculty members. JNUSU president Aishe Ghosh and senior faculty Sucharita Sen were hit on the head with sticks in scenes never seen before. The incident sent shockwaves as India reacted with outrage on police inaction while goons went on a rampage for no less than over three hours. Sabarmati, Periyar and Kaveri hostels were targeted. Warden of Sabarmati hostel, R Meena resigned this morning saying, "could not protect the students." Union Home Minister Amit Shah sought a report from the Delhi Police as images of badly bleeding and bruised students beamed across television channels. Protests have been called in Mumbai, Patna, Bengaluru, Hyderabad, Pune, Delhi, Kolkata, Jadavpur, Ahmedabad and many cities across India against the JNU violence. 
Eyewitnesses to JNU violence alleged the attackers entered the JNU premises while a meeting was being held by JNU Teachers' Association (JNUTA) on the issue of violence on campus. 
JNU violence Highlights:
10.40 PM: Mumbai: Members of ABVP hold protest at Hutatma Chowk against yesterday's violence at Delhi's Jawaharlal Nehru University
9.44 PM: Protests outside IIM Ahmedabad. Jignesh Mevani, Mallika Sarabhai take part
8:41 PM: Students' protest underway at Mumbai's Gateway of India over yesterday's violence at Delhi's Jawaharlal Nehru University.
8:22 PM: Delhi: Police deployed at Jawaharlal Nehru University.
8.01 PM: West Bengal: Clash between Jadavpur University students and police personnel, near Sulekha Mor in Kolkata, during protest against JNU violence.
Delhi Police PRO, MS Randhawa on JNU Violence: FIR has been lodged in the matter. An investigation is underway. The footage is being collected. Total 34 persons were injured and all 34 have been discharged from AIIMS Trauma Centre. Normally, police deployment is only in the administration block, and the scuffle took place away from that area. Around 7:45 pm, we were requested by JNU administration, then we entered the University and carried out a flag march. A committee has been formed under the Joint Commissioner of Police, for fact-finding and to avoid any delay in investigation and inquiry. We have found some vital clues and we are trying that the case is solved soon.
5:50 PM: Delhi: Indian Youth Congress members hold march from Raisina Road to India Gate against yesterday's violence at Jawaharlal Nehru University.
5:55 PM: "Every iron rod used against the students will be given back by debate and discussion. JNU's culture will not be eroded anytime soon. JNU will uphold its democratic culture," Ghose has said, taking a bold stand after being assaulted with iron rods last night.
5:30 PM: Jawaharlal Nehru students' union chief Aishe Ghosh addresses the media, says "it was an organized attack."
"We saw some students with iron rods, sticks in the morning. I quickly informed the police. The police assured us nothing would happen. I was cornered along with my sister. They continuously attacked me with iron rods. My sister luckily escaped. The masked guys clearly knew us. I heard them say "inko nahi maarna tha."
5:27 PM: Delhi Commission for Women Chief Swati Maliwal issues summon to the Registrar of Jawaharlal Nehru University (JNU), over assault on female students inside the JNU campus yesterday. 
5:00 PM: Educational institutions cannot be allowed to become "political adda": HRD Minister Ramesh Pokhriyal following JNU attack.
Pokhriyal promises "strong action" against perpetrators of JNU violence.
4:40 PM: Students of Jadavpur University protest against yesterday's violence in Jawaharlal Nehru University (JNU). 
3.00 PM: 
"JNU VC has made a mockery of teaching and learning process, " alleges JNU Teachers' Association. JNU Teachers' Association also demanded the removal of vice-chancellor following the attack on students and teachers.
2:36 PM: JNU Violence evidence that we are rapidly descending into anarchy: Chidambaram
Congress stalwart P Chidambaram has said that the JNU violence incident is evidence that the country is rapidly descending into anarchy. "This incident is perhaps the most clinching evidence that we are rapidly descending into anarchy. It happened in the national capital in India's foremost University under the watch of Central govt, Home Minister, LG and Police Commissioner," Chidambaram said.
Former Union Home Minister further added, "We demand that the perpetrators of violence(JNU) be identified and arrested within 24 hours and brought to justice. We also demand that accountability on officers be fixed and action taken immediately." 
1.30 PM: A meeting of HRD officials with JNU administration has just concluded. PTI reports tha JNU VC M Jagadesh Kumar was not part of the meeting. 
1.10 PM: Kolkata protests cutting across party lines
 Parties cutting across political lines, civil society groups and student bodies are slated to hit the city streets on Monday afternoon to protest the violence inside the JNU campus in New Delhi.
1.00 PM: Protests in Panjab University 
Students on Monday shouted slogans during a seminar at the Panjab University to protest the violence at the Jawaharlal Nehru University in Delhi. The students shouted slogans when Haryana Assembly Speaker Gian Chand Gupta was speaking a seminar- 'Women's Participation in Decision Making' at the PU campus in Chandigarh. 
Protesters including girls students were taken out of the seminar hall by the security personnel. Later talking to media, one of the protesters Kanupriya strongly condemned the attack on the Jawaharlal Nehru University Student Union (JNUSU) President Aishe Ghosh. Talking to reporters, Gupta described the protest as "a premeditated act". 
11:54 am: JNU VC tweets on violence on campus 
11:51 am: The origin of the present situation in JNU lies in some agitating students turning violent and obstructing the academic activities of a large number of non-protesting students. The protesting students damaged the communication servers to disrupt the winter semester registration, says JNU VC Mamidala Jagadesh Kumar
11:46 am: Hyderabad: Progressive Democratic Students Union (PDSU) activists protest in Osmania University against JNU violence
11:43 am: Congress seeks comprehensive judicial probe into JNU violence
11:38 am: The Delhi Police have registered a case against unidentified people in connection with the violence in Jawaharlal Nehru University. The case has been registered under a section of rioting and damage to property.
11:35 am: Police deployed outside JNU main gate 
11:31 am: Punjab Chief Minister Amarinder Singh describes violence inside JNU as 'barbaric'
11:28 am: We condemn the violence in JNU. This needs to be investigated. Congress, Communists, AAP and some elements want to create environment of violence in universities across the country, says Union Minister Prakash Javadekar
11:26 am: Police forces on alert in Uttar Pradesh
11:24 am: Odisha Chief Minister Naveen Patnaik condemns the attack on students and teachers at the Jawaharlal Nehru University (JNU), says violence has no space in democracy and such attacks on students must be condemned unequivocally.
11:23 am: Congress accuses government of harbouring enmity with youth of the country, says violence at the JNU campus reminds of the Nazi rule
11:21 am: JNU violence case transferred to Delhi Police Crime Branch; police will talk to students, starts collecting evidence
11:19 am: Registrar and Pro-VC of JNU met LG Anil Baijal today and apprised him of the situation. Police will talk to students and will start collecting evidence. Medical of 35 students is complete in both AIIMS trauma centre and Safdarjung hospitals, say government sources
11:08 am: HRD Ministry calls meeting with JNU administration over violence on campus
11:00 am: The entire country witnessed state sponsored goondism and terrorism yesterday in the campus of JNU. All this happened under the watch of JNU administration and also Delhi Police which is directly controlled by Home Minister Amit Shah, says Randeep Surjewala
10:56 am: All 34 students injured in JNU violence discharged from hospital over failure to protect students 
10:53 am: Warden of Sabarmati hostel at JNU resigns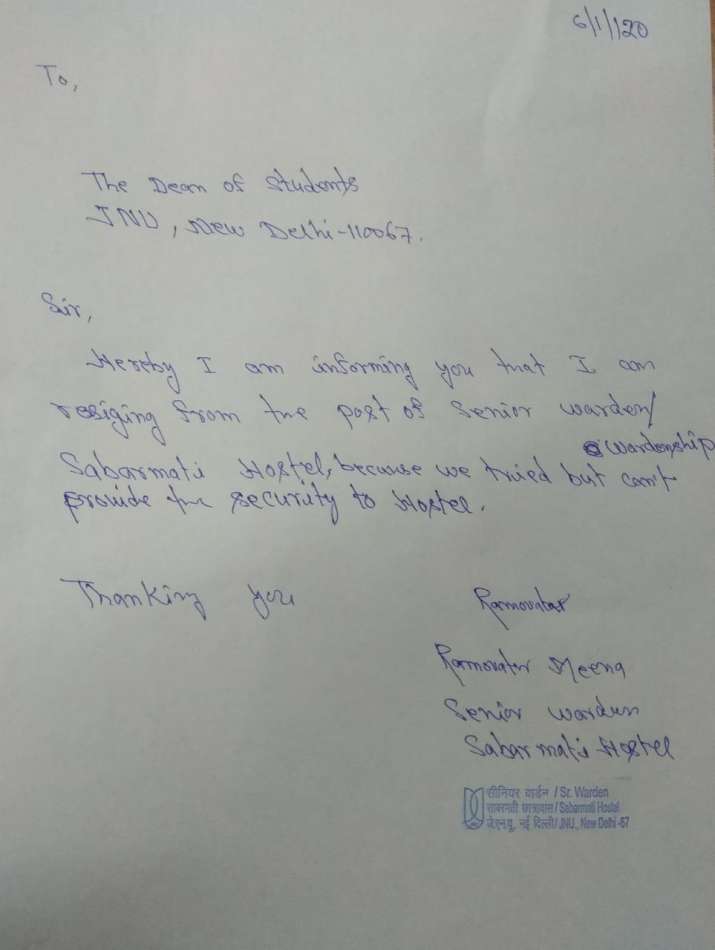 10:45 am: Sambit Patra on JNU violence
10:40 am: Sources say Delhi Police is likely to transfer the JNU violence case to crime branch
10:38 am: JNU VC M Jagadesh Kumar appeals for peace - Would like to appeal to all students to maintain peace. University stands by all the students to facilitate their pursuit of academic activities. We will ensure that their winter semester registration will take place without any hindrance. They need not fear about their process. The top priority of the University is to protect the academic interests of our students.
10:35 am: Shaken by the attacks in the Jawaharlal Nehru University campus in Delhi late on Sunday, hundreds of people staged protests in Mumbai and Pune on Monday condemning the manner in which students and teachers were targeted. The impromptu protests started from midnight and continued till morning at the Gateway of India, near the IIT-Bombay campus in Powai in Mumbai. And in Pune, protests occured in the FTII Campus.
10:31 am: NSUI to stage protest today against goons attack on the JNU students
10:26 am: An investigation into the attack has been launched and it would not be appropriate to comment on anything before the reports come. JNU campus should not be used as a base for politics, says Smriti Irani
10:20 am: Massive deployment of security personnel in place at Jawaharlal Nehru University, with authorities only allowing students with valid ID cards inside the campus which had witnessed violence. According to sources, security has been deployed outside the hostels, administration block and other important locations.
10:19 am: Left students are defaming Jawaharlal Nehru University (JNU), they have turned the University into a centre of hooliganism, says Union Minister Giriraj Singh on JNU violence
10:17 am: Home Minister Amit Shah speaks to Delhi Lieutenant Governor Anil Baijal, requests him to call representatives from Jawaharlal Nehru University (JNU) and hold talks, say sources
10:16 am: Delhi Police form special investigation team for JNU violence case
10:14 am: Delhi Police register FIR on suo moto cognizance in connection with violence at Jawaharlal Nehru University campus
10:13 am: 23 students who were admitted to hospital have been discharged
10:09 am: Team of Delhi police reaches JNU's Sabarmati hostel for investigations in connection with the violence on campus
09:57 am: JNU student leaves University campus following violence
09:43 am: Meeting underway at Chief Minister Arvind Kejriwal's residence over yesterday's JNU violence. Senior Aam Admi Party leaders and Delhi ministers present in the meeting
09:38 am: Congress' Kapil Sibal raises questions on JNU violence - "How were masked people allowed to enter the campus? What did the Vice-Chancellor do? Why was Police standing outside? What was the Home Minister doing? All these questions are unanswered. This is a clear conspiracy, investigation needed"
09:31 am: Kerala Chief Minister Pinarayi Vijayan on JNU violence - The onslaught on students is the result of intolerance. The Nazi-style attack on students and teachers on the campus of Jawaharlal Nehru University are carried out by those who want to create unrest and violence in the country. The Sangh Parivar forces must withdraw from this dangerous game of bloodshed on campus. It would be good if they understand that voice of students' are the voice of the land.
09:23 am: JNU issues statement in wake of violence at campus
The Vice-Chancellor of the university M Jagadesh Kumar is behaving like a mobster who perpetuates violence in the university he is supposed to administer. He uses all means and manner to see to it that students, teachers, Karmacharis and the entire JNU community face violence by criminals imported from outside using iron rods, stones and lathis. Even as we speak, the JNUSU President is in the trauma center of AIIMS after she was hit by an iron rod on the head in the ABVP assault. 
09:06 am: Education Ministry secretary calls the Registrar, Proctor and Rector of Jawaharlal Nehru University (JNU) to his office​
09:02 am: Congress' Sam Pitroda demands strict action against those involved in JNU violence 
08:59 am: Senior Congress leader Salman Khurshid condemns the attack on students and professors which had broken out in the Jawaharlal Nehru University campus on Sunday. He also said that the Delhi Police was late in reaching and stopping the violence which broke out on the campus​.
08:58 am: Digvijaya Singh slams Union Home Minister Amit Shah over JNU violence, says, "I condemn this incident... This whole incident happened on the directions of Union Home Minister Amit Shah."​
08:54 am: Priyanka Gandhi Vadra criticises Central government over JNU violence. "India has an established global reputation as a liberal democracy. Now Modi-Shah's goons are rampaging through our universities, spreading fear among our children, who should be preparing for a better future. To add insult to injury, BJP leaders are all over the media pretending that it wasn't their goons who unleashed this violence. The people are not deceived," said Priyanka Gandhi.​
08:50 am: Senior advocate Indira Jaising requests CJI Bobde to take suo motu cognizance of attack on students in JNU​
08:47 am: Aligarh Muslim University (AMU) students carry out candle march to show solidarity with the Jawaharlal Nehru University (JNU) students after violence at JNU campus. Students lit candles and carried banners to express their solidarity with the JNU students who were injured during the violence.​
08:42 am: Delhi police have received multiple complaints in connection with Sunday's violence in Jawaharlal Nehru University (JNU) in which over a dozen students and faculty members were injured. According to Delhi police officials, many complaints in regard to yesterday's violence in Jawaharlal Nehru University (JNU) has been received and FIR will be registered soon.​
08:39 am: Delhi Police have collected CCTV recordings from the JNU campus to probe the violence that was unleashed on Sunday night
08:35 am: Delhi Traffic Police issue advisory in wake of JNU violence - Road No 13A between Mathura Road and Kalindi Kunj is closed for traffic movement. People coming from Noida are advised to take DND or Akshardham to reach Delhi​
08:32 am: Early morning visuals from JNU campus
08:26 am: #ChaloGateway trends on Twitter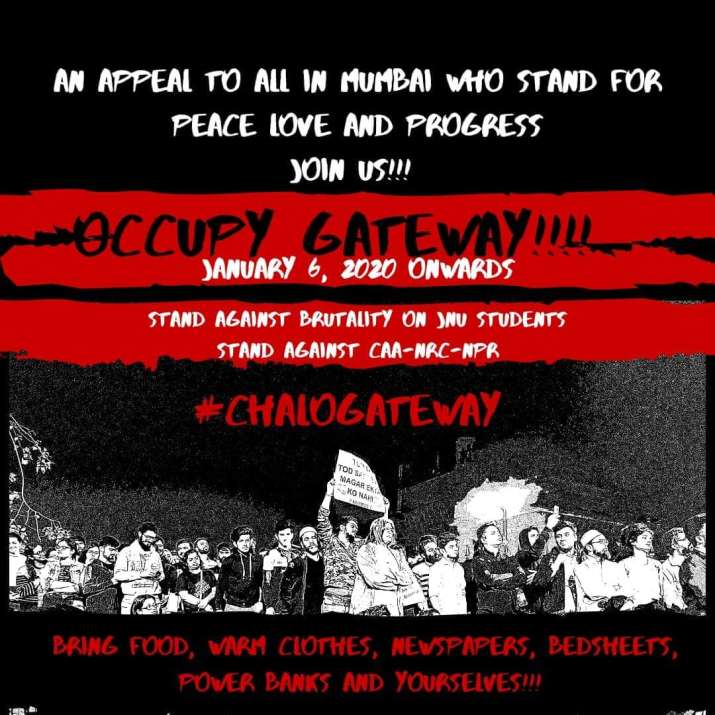 08:22 am: Delhi Police receive multiple complaints in connection with yesterday's violence at Jawaharlal Nehru University (JNU); says will soon register FIR​
08:19 am: Mayawati condemns violence at JNU campus, demands judicial inquiry into the incident 
08:18 am: Students in Mumbai protest against JNU campus attack
08:16 am: List of those admitted to AIIMS following violence at JNU campus
1. Sarthak - 31 yrs 
2. Kamlesh Mandrijo - 30 yrs
3. Soori Krishnan - 23 yrs
4. Gaurav - 24 yrs
5. Shambhavi - 21 yrs (female) 
6. Velentina - 26/F
7. Shivam Chaurasia - 27 yrs
8. Manish Jangid - 25 yrs
9. Sheshmanee Sahu - 22 yrs
10. Aise Ghosh - 23 yrs/F
11. Ameet Parameswaran - 37 yrs 
12. Sucharita - 45 yrs/F (faculty member)
13. Nikhil Mathew - 24 yrs
14.Ayush Singh - 19 yrs
15. Ashwarya Pratap - 25 yrs
16. Shokat - 28 yrs
17. Ujjwal - 22 yrs
18. Deepshikha - 19 yrs /F
19. Sbimit - 21 yrs
20. Kamran - 22 yrs
Also Read | JNU admin condemns violence on campus; police assure action against perpetrators
Also Read | 'Delhi police, go back' slogans raised during flag march inside JNU campus​