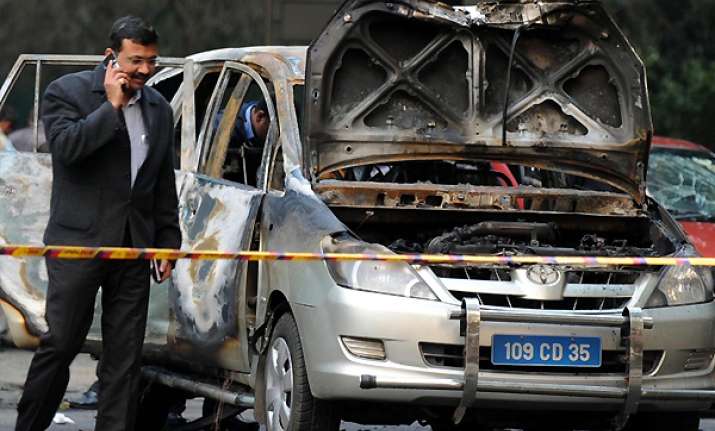 New Delhi, Mar 18: Houshang Afshar, an Iranian national alleged to be involved in bombing of Israeli envoy's vehicle here last month, flew to Tehran after spending a day in Malaysia apparently waiting for his accomplices in Bangkok.

According to the investigation report sent by the Malaysian authorities, the bomber arrived at Kaula Lumpur and is believed to have waited for his accomplices who were planning to carry out a similar attack in the Thai capital.

As the news about the botched up plan in Bangkok hit the television screen, Afshar left for Tehran in the intervening night of February 14 and 15, according to the investigation report shared by the foreign authorities with India. The bomb attack here occurred on February 13.

The phone book of Masoud Sedaghatzadeh, who was arrested by the Malaysian police from Kaula Lumpur airport, led sleuths comprising officials from external and internal security agencies to Indian journalist Syed Mohammed Ahmed Kazmi from where the entire conspiracy started unravelling.

Probe reports shared by Bangkok included pictures of Sedaghatzadeh and two other bombers—Saeid Moradi and Mohammad Kharzei (both part of botched up plan in Bangkok) with some women escorts in Pattaya.

The photo taken by one of the women from her mobile phone purportedly shows the three Iranians at a Middle Eastern bar surrounded by hookah water-pipes.

Bangkok police had also recorded statement of one of the women escorts, shared with police, in which it was alleged that Kharzei had asked her to escort him as he was not good in conversing in English language.

According to sources privy to the probe conducted in India, Malaysia and Thailand and also on the basis of  the statement of Kazmi to Delhi Police, the spate of attacks planned in New Delhi, Bangkok and Georgia was to take revenge on attacks on Iranian scientists since 2009.  Four Iranian nuclear scientists have been killed in attacks since 2009.

Massoud Ali Mohammadi was killed by a remote-controlled bomb in Tehran in January 2010 followed Majid Shahriyari, who was killed in a car bomb attack in November, 29, 2010. He is believed to have a role in one of Iran's biggest nuclear projects.

The day Shahriyari was killed, there was a failed attempt on life of Fereidoun Abbasi-Davani, a scientist working with Iran's Atomic Energy Organisation.

In 2011, another scientist Darioush Rezaeinejad, was shot dead by gunmen in eastern Tehran July 2011 followed by killing of Mostafa Ahmadi-Roshan, who died along with his bodyguard when an assailant on a motorcycle slapped a magnetic bomb on his car as he commuted to work.

The same modus operandi was followed  in the Delhi bombing in which the Israeli diplomat Tal Yeshua was critically injured.