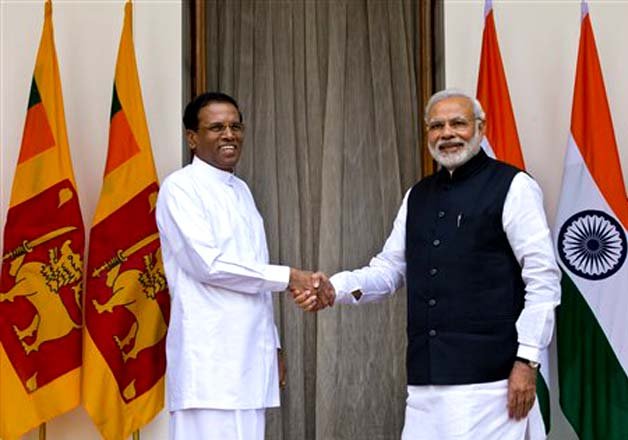 New Delhi: India and Sri Lanka Monday announced a bilateral agreement on civil nuclear cooperation, a move that was stuck for years under the previous government headed by Mahinda Rajapaksa.
The announcement comes weeks after a "breakthrough" in India's nuclear deal with the US.
The South Asian neighbours, who signed a deal on the nuclear safety on Monday, are seeking to strengthen strategic ties, increase trade and resolve long-standing issues between their nations.
The deal came as Sri Lankan President Maithripala Sirisena began a visit to India, his first trip abroad since he swept to power in January, which has provided India with an opening to repair ties that had become tense under his predecessor.
"The bilateral agreement on civil nuclear cooperation is yet another demonstration of our mutual trust," Indian Prime Minister Narendra Modi said in a statement.
The Lankan president is believed to be desirous of making a new beginning in the Indo-Lanka relations after bilateral ties suffered under Rajapaksa over India's backing to US-moved resolutions at the UN rights body over alleged warcrimes. The Rajapaksa regime's pro-China tilt had also soured the relationship.
Over the past decade, India has watched with concern as China pumped billions of dollars into infrastructure projects in Sri Lanka.
Last year, President Xi Jinping became the first Chinese leader to visit Sri Lanka in 28 years as he courted Colombo's support for a maritime trade route.
Sri Lanka also irked India by allowing two Chinese submarines to dock along its coastline. While campaigning for the election, Sirisena had criticized the Chinese projects as debt traps, but he has since announced plans to visit China after his India trip.
The talks between Modi and Sirisena appeared to have put relations between the neighbours back on track, with both leaders agreeing to resolve many of the irritants in their ties.
Modi said the two countries also agreed to expand defence cooperation, but gave no details. "This is my first visit and it has given very fruitful results," Sirisena said.
Sirisena will be looking to boost bilateral trade with India, now standing at around $1bn.