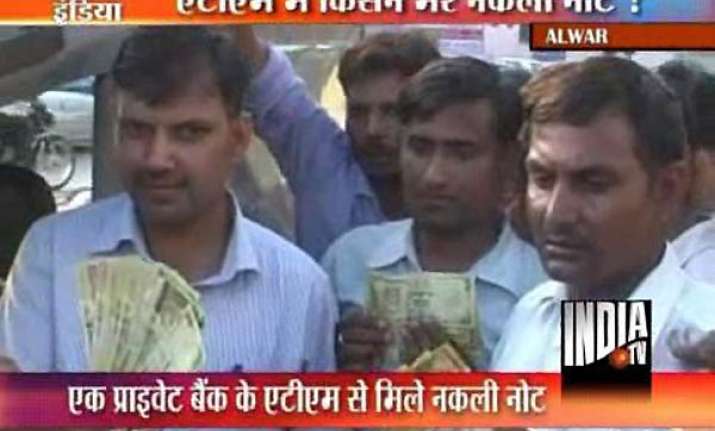 Alwar, Rajasthan, Aug 12 : HDFC Bank customers  had a harrowing time on Thursday when they found fake Indian currency notes coming out of an ATM in Shivaji Park here.
 
Avinash Sharma withdrew Rs 32,000 cash, only to find that Rs 2,500 out of it in Rs 500 denominations were fake.
 
Next was Ram Sharan Sharma, who withdrew Rs 10,000 to find Rs 7,500 in Rs 500 denominations fake.
 
Third was Sajjan Lal, who withdrew Rs 2,500, and found Rs 2,000 in Rs 500 denominations fake.
 
All three customers complained to the guard, who sent them to the Bank manager.
 
The manager Deepak Sharma, instead of listening to their complaint, shooed them away claiming that all currency notes in the ATM were real.
 
The customers then called up the police, who after speaking to the ATM guard called the HDFC bank officials.
 
The bank officials then withdrew  all currency notes from the ATM for checking, and closed down all ATMs in Alwar town supecting some irregularity.
 
HDFC Bank officials are checking with  CIT security agency involved in depositing cash inside the ATMs about the fake notes, said SP Alwar Mahesh Goel.
 
Police is yet to seize the fake notes. All the fake Indian currency notes have been taken away by the HDFC officials for their own internal inquiry.