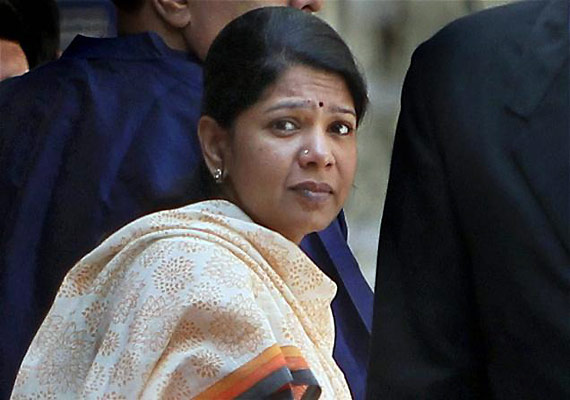 New Delhi, Mar 27: The Delhi High Court today sought the CBI reply to DMK MP Kanimozhi's plea for quashing of various criminal and corruption charges framed by the trial court against her in the 2G spectrum allocation case.  
Justice M L Mehta issued notice to the probe agency and fixed the matter for further hearing on May 10.  
Kanimozhi, in her plea, had claimed she was falsely implicated in the case and had contended there was no evidence on record to justify the charge that she received bribe.  
The 44-year-old DMK leader, who got bail after spending over six months in Tihar Jail, had also sought setting aside of all proceedings which ensued after framing of charges.  
She had challenged the trial court's order framing charges against her contending that it was based on "wrong and misplaced understanding of the law on conspiracy."
Special CBI judge O P Saini had framed charges against former Telecom Minister A Raja, Kanimozhi and 15 others on October 22 last year for offences punishable under the Indian Penal Code (IPC) and the Prevention of Corruption Act.  
All the accused were charged under various provisions of the IPC and the PC Act for alleged criminal conspiracy, cheating, forgery, faking documents, abusing official position, getting bribe and criminal misconduct by public servant along with criminal breach of trust.  
The offences entail punishment ranging from six months in jail to life imprisonment.
The court's order framing charges against Kanimozhi had said she was "an active brain" behind the operation Kalaignar TV and was "in regular touch" with Raja to serve the cause of party-run Kalaignar TV which had allegedly received Rs 200 crore as bribe in lieu of the grant of UAS licence to Swan Telecom.
Kanimozhi had claimed she was not aware of the events between October 2007 and January 2008 and said "in absence of such knowledge it is unthinkable that the petitioner had agreed to be part of conspiracy."
She had further said there was no allegation that the alleged bribe money reached her or in any manner has benefited her.
"No allegation that a single penny of the alleged bribe money has gone to personal account of the petitioner or has in any manner benefited her on a personal level," she said in her petition.
The petition said the order of trial court framing charges under Sections 120B / 409 was unfounded as the decision not to auction 2G spectrum is based on TRAI's recommendation and she had nothing to do with the same.
"The trial court judge has committed a grave error in framing charges of 120B and 409 of the IPC against the petitioner as the decision not to auction 2G spectrum is based on TRAI recommendation of August 28, 2007 and there is no evidence on record that the petitioner had anything to do with the same," the petition said.