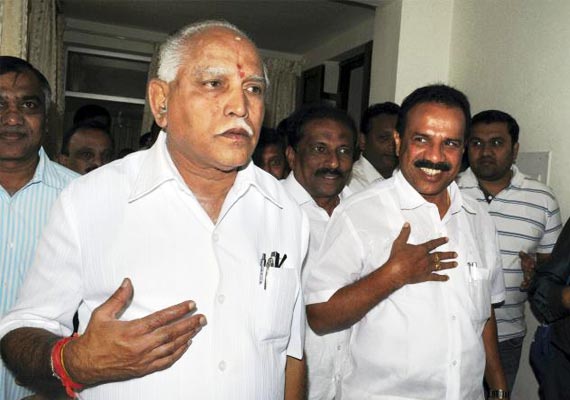 New Delhi, Mar 22: Amid mounting pressure from B S Yeddyurapa for his reinstatement, Karnataka Chief Minister D Sadananda Gowda today said he has been assured by the BJP top brass that there would be no leadership change in the state.
Gowda also indicated that the BJP defeat in the Udipi-Chikmagalur Loksaba bypoll was due to party infighting.  
"There is no leadership change... This issue is not there, there is no change of leadership. We will continue as it is," he told reporters after meeting senior BJP leaders here.  
Asked if the party leadership had asked him to step down, he said, "That question does not arise."
On reports that top BJP leaders have reconciled to reinstating Yeddyurappa, Gowda said there is "no such direction from the Centre or Central leaders whom we met today..."
Yeddyurappa, who has stepped up his campaign for his reinstatement ever since the Karnataka High Court set aside the Lokayukta order against him, is here to meet BJP leaders.  
Yeddyurappa claimed he has no demands but his mission was obvious in that he would be meeting senior party leaders L K Advani, Nitin Gadkari and Arun Jaitley.
Gowda said, "We have come here with regard to the present political scenario. We lost the elections. That is a very serious matter, because it is a constituency where our cadre and party is so strong... We are worried how we should go ahead with the organisation set-up and how we should take the government ahead. This is the only thing left for us."
The Karnataka Chief Minister said he had met L K Advani, Murli Manohar Joshi and Sushma Swaraj, besides Arun Jaitley and Nitin Gadkari at his residence where party in-charge Dharmendra Pradhan was also present.
On whether the party lost the Udupi-Chikamanglur Lok Seat due to infighting in the party, the Karnataka CM said, "I hope so".
The seat was earlier represented by Gowda himself.  He admitted that he has encountered problems since day one.
"Right from day one we got into power in Karnataka, this is continuing. There will be no problem for the Government.  Only some small problem here and there."
Gowda said that the party's defeat in Udupi-Chikamanglur seat was a serious matter and needs to be analysed.  "It is BJP's seat, not Sadananda Gowda's seat. BJP lost it, that is why we are worried," he said.
Asked whether the Yeddyurappa factor was a reason for the defeat, he said, "While analysing the defeat in Udupi Chikamanglur Lok Sabha constituency, all these matters have come up."
When asked if senior party leaders have suggested his joint meeting with Yeddyurappa, Gowda said, "It is not necessary. Such meetings are not called".
When asked if Yeddyurappa was required to be pacified, he said "He is a BJP man, whatever directions issued by the party, he is supposed to obey."
Gowda, during his meeting with top BJP leaders Advani and Gadkari in Delhi, was accompanied by state BJP chief K Eswarappa.
On Yeddyurappa building pressure on the party for his reinstatement, the Chief Minister said, "I don't know whether Yeddyurappa has come over here or he had discussions with the central leaders. That we are not aware because Yeddyurappa was not there when we discussed the matter with the central leadership."
Gowda also said that central leadership had told him that they were aware of the political developments in Karnataka.  
"They have told me, they will resolve the problems and at present there is nothing more for discussions," he said.  
There were reports that Yeddyurappa has given the BJP leadership a deadline for the first week of April for making him the chief minister, so that the state budget could get easy passage in the assembly.