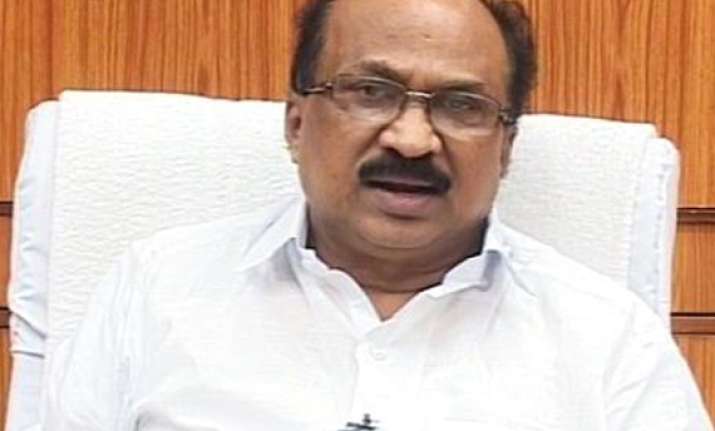 New Delhi, Dec 22: Food Minister K.V. Thomas has said he would explain the merits of the Food Security bill, introduced in Lok Sabha on Thursday, to the chief ministers of Tamil Nadu and Bihar who have raised concerns over it and claimed it would not entail such a large financial outgo as feared.

"I will explain them the merits of the historic National Food Security Bill which promises food security for 63.5 per cent of the country's population," Mr. Thomas told reporters emerging from Parliament after introducing the Bill.

Tamil Nadu Chief Minister J. Jayalalithaa has demanded the Centre exempt the state from implementing the Food security legislation while her Bihar counterpart Nitish Kumar is seeking revision of BPL list and cash transfer for effective implementation of the Act.

Ms. Jayalalithaa has said the proposed legislation is "replete with confusion and inaccuracy." Mr. Thomas said: "This is a landmark social legislation which everybody should appreciate."

The National Food Security Bill, 2011, considered the "world's largest experiment in providing food security to the poor", is a key project of Congress president Sonia Gandhi.

When told that there are States which are offering rice at Rs 1 per kg as against Rs 3 per kg under the proposed legislation, Mr. Thomas said "all these things will be looked into by the Standing Committee to which the Bill will be send."

"Our ministry is also examining suggestions by many states," he added.

On asked whether the scheme would enhance the annual food subsidy amount to Rs 95,000 crore annually, Mr. Thomas said "there is some confusion in understanding".

According to experts, the legislation would cost an additional sum of over Rs 27,500 crore annually.

However, Mr. Thomas said: "The implementation of the Food law would require an additional amount of not more than about Rs 20,000-21,000 crore annually by way of subsidy."

The minister said the legislation merges many ongoing programmes meant for women, children and the poor section so that there is no additional financial burden.

"The primary responsibility of Food department is to modernise the PDS system as well as the storage mechanism. On these we are concentrating now", the minister said.
 
"From next April onwards, we are trying to introduce an end to end computerised system (of PDS) for which around Rs 4000 crore has been earmarked by the Planning Commission.

Till the standing committee's report comes, we will be concentrating on the modernisation of the PDS system as well as adding more storage facility", Mr. Thomas said.