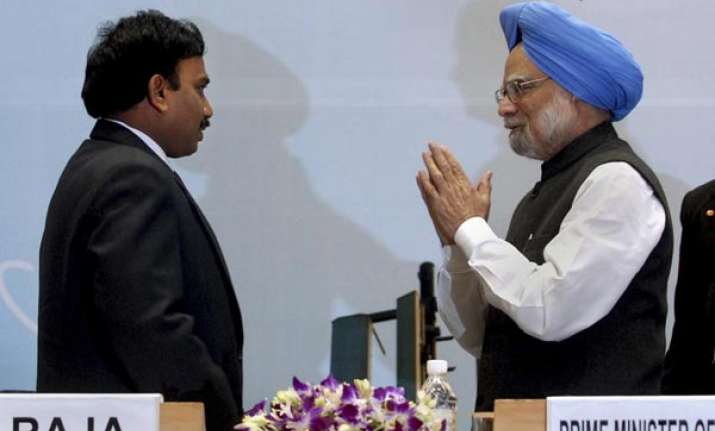 New Delhi, Dec 11 : A former senior official of the Department of Telecom (DoT) on Monday told a Delhi court trying the 2G case that erstwhile Telecom Minister A Raja had "not consulted" him during preparation of the letter sent to the Prime Minister on December 26, 2007.
"I have been shown letter dated December 26, 2007.... written by the then Minister to the Prime Minister.
"As member (Technology), I was not consulted either before the preparation of letter or during the process of preparation of the letter itself," DoT's erstwhile Member (Technology) K Sridhara told Special CBI Judge O P Saini while deposing as a prosecution witness in the spectrum allocation case.
Sridhara's statement assumes significance as the CBI, in its charge sheet, had alleged that Raja had wrote a letter to the PM on December 26, 2007 and he had "intentionally and deliberately misrepresented the facts about the first come first served (FCFS) policy..."
The agency had said the December 26, 2007 letter was written by Raja and co-accused R K Chandolia, the then private secretary of the telecom minister, and was "not a result of the deliberations of the Department of Telecommunications in its files as such."
According to the CBI, the December 26, 2007 letter related to policy matters regarding grant of Unified Access Service Licences (UASL) to the applicant telecom firms.
During recording of his statement, Sridhara deposed that he came to know about the December 26, 2007 letter when it was placed in the file of the department "after sometime".
Regarding issuance of licences in bulk to eligible telecom firms on January 10, 2008, he said Raja had given the "logic" that "if more licences were given, there would be more competition and hence the tariff would come down and also that it would avoid possibility of any trading of licences."
During his cross examination, which would also continue tomorrow, Sridhara said till October 1, 2007, a total of about 575 applications were received by the DoT for grant of UASL, and it was the view of then Telecom Secretary D S Mathur that letters of intents (LoIs) could not be issued to all the applicants because of non-availability of spectrum.
On being asked by senior advocate and Raja's counsel Sushil Kumar about a November 2, 2007 meeting chaired by the then telecom minister, Sridhara said he was also present there and it was decided that the existing policy, as suggested by the then telecom secretary, be followed for grant of UASL.
He said as the number of applicants was very large, if the applications were taken one by one, it would have taken about a month in the processing of one application and total delay would have been of eight to nine months.
"It is correct that in October-November 2007 the number of applications was very large and compliance with this procedure of sequential processing and extension of time could have led to some delay. It is correct that in order to reduce the delay, simultaneous issuance of LoIs has been proposed..," he said.
Raja, Chandolia and DMK MP Kanimozhi, along with others, are facing trial for various offences like cheating, criminal conspiracy, forgery and faking documents under the Indian Penal Code and for the offences of abusing official position, getting bribe and criminal misconduct by public servant under the Prevention of Corruption Act.
The offences entail punishment ranging from six months in jail to life imprisonment.
Emerging story. Watch this space for updates as more details come in