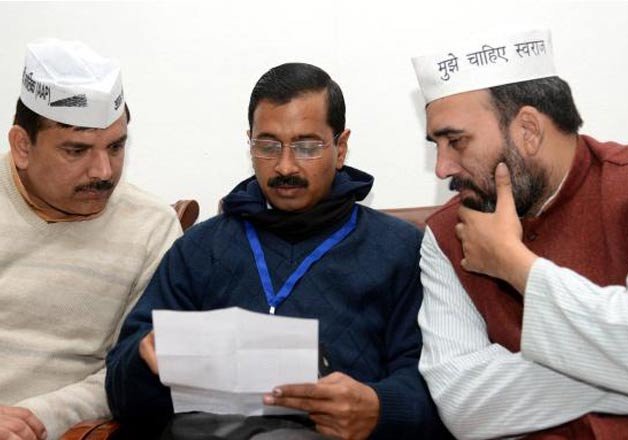 New Delhi: The Delhi government has suspended two senior officers of its Home Department for refusing to sign on a Cabinet decision file, following which around 200 DANICS-cadre officers have threatened to go on mass leave tomorrow in solidarity with their colleagues.
Yashpal Garg, special secretary (Prosecution), and Subhash Chandra, special secretary (Prisons), have been suspended, a Delhi government spokesperson said.
The action was taken only after Garg and Chandra refused to sign a file pertaining to the Cabinet decision to increase salary of public prosecutors, the spokesperson said.
The Kejriwal government's move may lead to another round of confrontation between the Centre and the AAP dispensation as only the Delhi Lt Governor can suspend DANICS-cadre officers with permission from the Union Home Ministry.
If DANICS-cadre officers in Delhi go on the mass leave tomorrow, preparations of the odd-even scheme, which will come into force on January 1, may be affected as most of these officers are looking after the projects pertaining to the road-rationing plan.
Agitated over the suspension of the two officers, DANICS Officers' Association, consisting of around 200 members who hold crucial posts including that of SDM, secretary to minister and special secretary, are contemplating to go on mass leave tomorrow.
"Delhi Government does not have power to suspend any DANICS officer and it can only recommend suspension of DANICS officer and on this, LG can suspend him or her with permission from MHA.
"To express solidarity with the two suspended officers, around 200 DANICS officers, who are working in government's different departments, will go on leave tomorrow for one day," a representative of the association said.
It has apprised Union Home Minister of the development. It also demanded that the Delhi government revoke the suspension.
Reacting to DANICS officers' Association's move, the government spokesperson said, "We have not got any official communication from the association. If they want to go on leave, they can do so."
Recently, the Arvind Kejriwal had suspended three transport department officials, including a DANICS-cadre officer, for alleged "wrongdoings" in issuing letter of intents to auto drivers at Burari Transport Authority.
Earlier this month, Kejriwal had also suspended two sub-divisional magistrates for failing to provide instant relief to victims whose jhuggis were demolished by Railways in West Delhi's Shakur Basti area.
However, these two SDMs are still holding their posts and doing their works. Besides, former home secretary Dharampal was 'sidelined' for following Lt Governor Najeeb Jung's orders to remain at his post despite the government appointing Rajendra Kumar as the home secretary.
Meanwhile, the Delhi government employee association has also extended its support to the DANICS officers who are going on mass leave. The association represents around 8000 group B and group C employees of the Delhi government.
(With inputs from PTI)