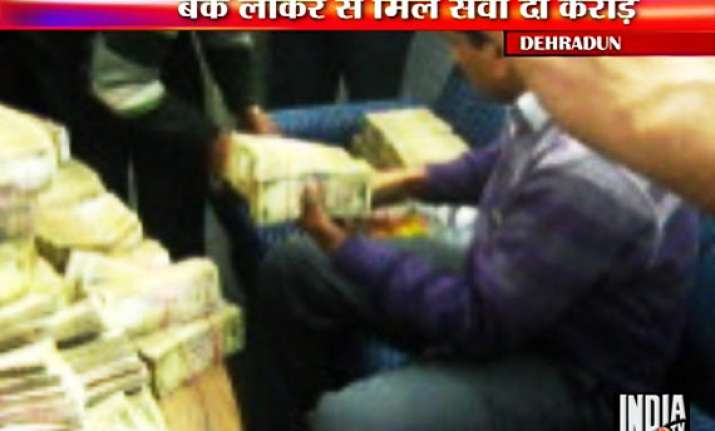 Dehradun, Nov 16: Vigilance officials of Uttarakhand police on Wednesday struck paydirt when they found Rs 2,11,53,000 cash in Rs 1000 and Rs 500 denominations stuffed inside the SBI locker owned by state drug controller Dharam Singh.
 
It took nearly two and a half hours for the Vigilance staff to borrow SBI's counting machine to count the notes.
 
Rs 62,64,000 were in Rs 1000 denominations, while Rs 1,48,89,500 were in Rs 500 denominations, Uttarakhand DGP Satyavrat Bansal said.
 
Dharam Singh was earlier Assistant Drugs Controller and had taken charge as Drugs Controller only a year ago.  He was literally minting money and stuffing them inside his locker, Vigilance officials said.
 
A large part of the currencies had Syndicate Bank's Behsua (Meerut) branch stamped on them. Vigilance officials are trying to trace the source of this ill-gotten money.
 
Vigilance officials said, Dharam Singh owned several crores of rupees worth gold idols, gold and silver ornaments and utensils, and posh bungalows and plots in several cities.
 
His property so far has been computed in excess of Rs 4.5 crores, officials said.
 
A case of disproportionate assets alongwith a case under Prevention of Corruption Act have been registered.
 
Dharam Singh was caught red-handed seven days ago while taking Rs 50,000 bribe, police said.
 
The family was unwilling to give the bank locker keys to police. While Dharam Singh said the keys were lost, his wife said they were stolen. Finally, Dharam Singh's lawyers from Delhi came to Dehradun and handed over the keys to Vigilance staff.