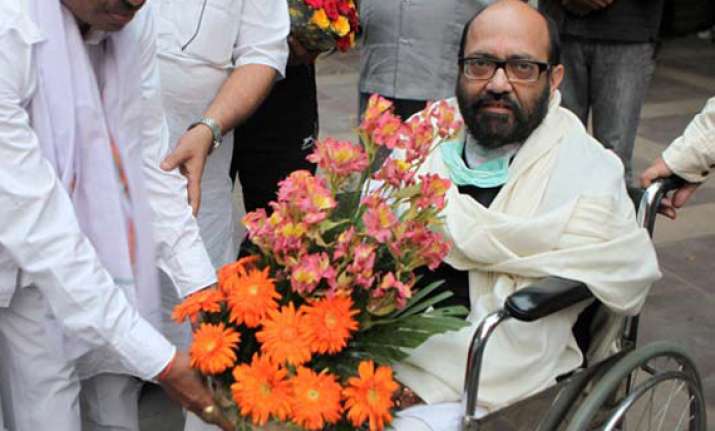 New Delhi, Nov 3 : A Delhi court today allowed cash-for-vote case accused Rajya Sabha MP Amar Singh to travel to Singapore for treatment.
 
The court allowed Singh to be in Singapore from Nov 8 till Nov 30 and then return to India after treatment.
 
The court granted permission after execution of a Rs 5 lakh personal bond by Singh.
 
Amar Singh, who was granted bail on medical grounds in the cash-for-vote case, was discharged from the AIIMS on October 30, where he was undergoing treatment for over a month for kidney-related problems.

55-year-old Singh was admitted to AIIMS on September 12 following a rise in creatinine (marker of kidney function) level in his body.

Singh  was arrested on September 6 in connection with with his alleged role in 2008 cash-for-vote scam and given bail on humanitarian ground on October 24.

Singh was brought to AIIMS from Tihar Jail on the night of September 12 following complications related to post-renal transplant, diarrhoea, urinary tract infection, diabetes, dehydration and hypothyroid hypertension.

After being released from AIIMS, Singh had said, he had developed an infection in his urinary tract. I

"From the time I had my kidney transplant, I have been going to Singapore (for treatment). For sometimes, I have not been able to to go to Singapore."

Dr Sanjay Gupta, senior nephrologist with AIIMS, who was attending on Singh says: "He is in proper condition. His condition is rather better now. His creatinine level was fluctuating when he was brought to us. Along with that he had other health complications.

"All renal transplant patients are on immunosuppresive medications (to prevent rejection of transplanted organs) which make them prone to infections.As a routine, any renal transplant patient showing more than 30 per cent acute rise in Creatinine needs admission for finding cause and managing the same. That is why he was admitted with us," he said.