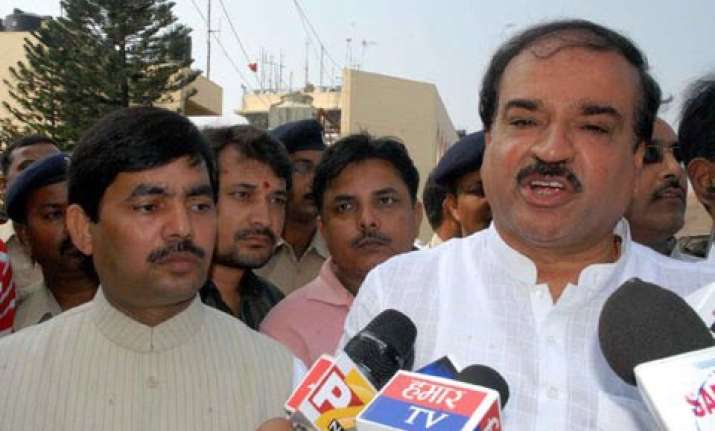 New Delhi, Feb 28 :  Opposition today dubbed the Budget as "futile" and "directionless", saying it brought no relief to the common man and nothing has been done to contain inflation. Trashing it as a "futile exercise", senior BJP leader Anant Kumar said it has no proposals to contain rising prices and offered no succour to the 'aam aadmi. Terming the Budget as "timid", former NDA Finance Minister Yashwant Sinha said it is "completely devoid of reforms." Another BJP leader Rudra Narayan Pani termed it a "clear-cut election Budget" which indicated that the Government could go for mid-term polls. CPI leader Gurudas Dasgupta said the Budget was "directionless" and did not reflect any seriousness by the Government to address the issue of unemployment or keenness to mop up additional resources and taxing rich people. "It's a nominal Budget with no direction. This is a directionless Budget in which no efforts have been made to raise additional resources and taxing rich people. No attempts have been made to increase employment in the Budget. It is a thoughtless exercise," Dasgupta said.
Watch :-
Union Budget 2011 Live - Part 1
Terming the Budget as insensitive, CPI(M) leader Nilotpal Basu alleged that a large number of poor people were excluded from subsidies. "Where is the question of inclusion in this Budget? The government is taking cue from the global finance regime," Basu said. BJD MP Jay Panda described it as "mixed Budget" but rued that "no steps were taken by the government to contain inflation". Asked if the Budget was presented with an eye on the forthcoming assembly elections in five states, SP spokesperson Mohan Singh said, "It may be even aimed at the general elections."JD(U) chief Sharad Yadav said the Government has not proposed any steps to bring back black money or to fight corruption. "Even the Rs 25,000 crore given for the anti-Naxal operations does not seem to be adequate," he added.
RJD Chief Lalu Prasad, however, said he was "happy" about the Budget but would be happier if certain bills proposed in it come through. He welcomed Budget proposals for providing cash subsidy in fertilisers, LPG and kerosene directly to the consumers. Expressing satisfaction over the various proposals of the Budget, Godrej Group Chairman Adi Godrej said: "I think it was a very well balanced Budget and growth oriented. It will be very good for the economy. The decision to formally introduce the constitutional amendment for GST is a very good one." He said increase in limit for income tax exemption for tax payers will add to consumption "which is desirable".
While welcoming the reduction in surcharge for companies from 7.5 per cent to 5 per cent, Godrej, however, said: "It is desirable, although I would have liked to see surcharge completely removed.
"I didn't see any thing negative in the Budget. But what I like the best is that the widely expected increase in excise duty was very sensibly not resorted to," he added. Terming the Budget as balanced, HSBC India Country Head Naina Lal Kidwai said: "The finance minister has allowed the growth agenda to stay on track." She also said the Budget has also set the direction for financial sectors reforms with Mukherjee promising take forward many pending Bills in Parliament soon.
Ficci President Rajan Bharti Mittal said the Budget is balanced and will sustain the growth momentum, while giving main emphasis on agriculture and manufacturing.
However, not all industries were happy with the Budget proposal, specially those in the iron ore mining sector which will now have to pay 20 per cent export duty.
"Iron ore industry will not be able to absorb it (export duty 20 per cent). It will affect export earnings of the country," Roongta Mines Ltd President Siddharth Roongta said. Principal Economist for Deloitte in India Shanto Ghosh said: "Overall, the policy prescriptions outlined in the Budget were lacklustre and can be considered more of tinkering around the edges without ushering in radical reforms."
Ghosh, however, said the commitment to refrain from additional borrowing to fund the fiscal deficit will certainly help retain the momentum in terms of private investment that is critical to sustained growth. Motilal Oswal Joint MD Ramdeo Agarwal said no increase in excise rates has boosted market. "Auto and banking sectors are clear winners in Budget." PTI