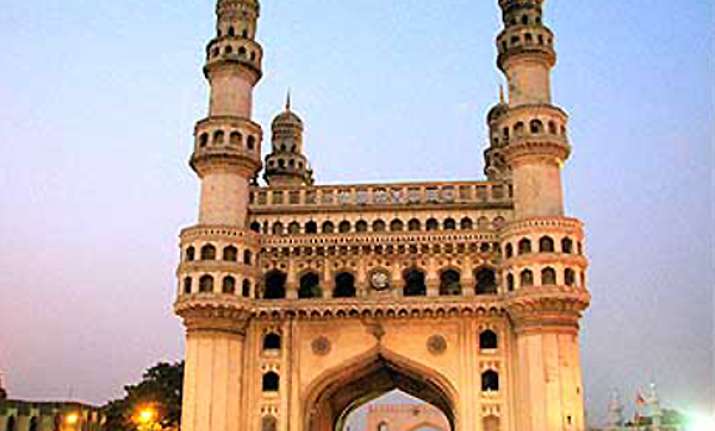 Hyderabad, Nov 6:  The Andhra Pradesh High Court Monday ordered that status quo, as of Oct 30, be maintained at a temple abutting the historic Charminar monument here and directed that no construction activity be taken up touching the monument.
The division bench comprising acting Chief Justice Pinaki Chandra Ghose and Justice Vilas V. Afzulpurkar was dealing with three public interest litigations filed by corporators belonging to the Majlis-e-Ittehadul Muslimeen (MIM).
Mohsin Balala, one of the petitioners, told IANS that the court directed that status quo, as of Oct 30, be maintained. The court directed all parties to file the affidavits within four weeks and posted the next hearing after five weeks.
The petitioners sought a stay on construction activity, saying it posed a threat to the over 400-year-old Charminar, a protected monument.
The Bhagyalakshmi Temple Committee, Vishwa Hindu Parishad and some other groups had impleaded themselves in the case, opposing the petitions.
The bench observed that while there was no dispute that the temple was there for a long time, the main grievance of the petitioners was that attempts were being made to expand the temple by touching the pillars of the Charminar.
"We make it clear that since Charminar has already been declared as a historical monument and thereby protected under the Ancient Monuments and Archaeological Sites and Remains Act, 1958, no construction touching the said monument can be done by any party in any matter whatsoever," the court said.
Tension has been building in the city since Oct 31 when some people tried to expand the temple abutting the monument, leading to protests from people belonging to the other community.
Violent incidents took place in the communally sensitive Old City Friday and late Sunday night.
The Charminar, an impressive square monument with four minarets, was built by Mohammed Quli Qutab Shah in 1591 to commemorate the end of the plague in the city.