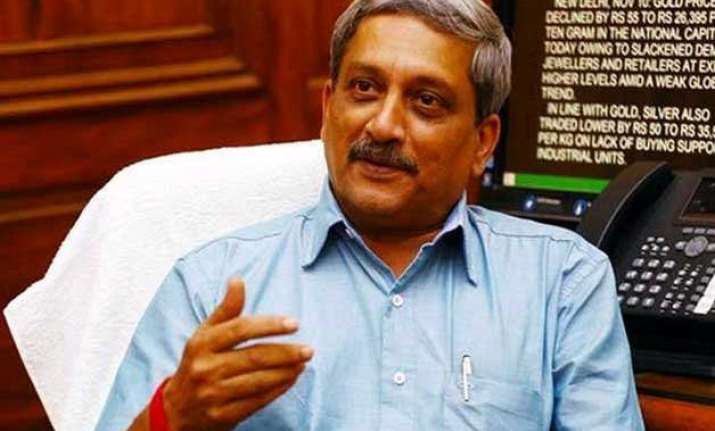 New Delhi: To address shortage of ammunition for army, their production has been increased by 18 per cent since last year, Defence Minister Manohar Parrikar said today.  The minister said that after taking charge he has taken the task of stream lining projects and financial planning for the same.
A CAG report on ammunition management had pointed out that the army faced a massive ammunition shortage with reserves that would barely last 20 days of intense fighting.  The army needs to build up its war wastage reserves for 40 days of intense fighting.
"It is a 2003 report. After taking over, we put this on priority and did a follow-up. The Ordinance Factory Board has seen an increase in the level of production by 18 per cent.  This has improved the criticality level," the defence minister said.
Parrikar was speaking at a Maharashtra Majha conference, organised by Marathi news channel ABP Majha, to mark a year of the Narendra Modi government.
Apart from Parrikar, Railway Minister Suresh Prabhu and Anant Geete, Minister for Heavy Industries, were also present at the event.
The defence minister stressed that financial planning was crucial for the projects announced.
"Since 2005, there were 339 different projects pending at various stages. I ordered the unwanted projects to be closed as they were designed in 2005 and analysed the remaining ones to ascertain which one should be taken forward," he said.  
Parrikar also rubbished reports that he was upset with Prime Minister announcing government-to-government deal in case of buying the Rafale jets.
"I was very much on board when the decision was taken," Parrikar said.
In an another interactive session, Union Minister Gadkari batted for toll to provide better services.
The Minister for Surface Transport and Shipping said that 62 tolls have been cancelled in the country of which 16 are from Maharashtra.
"The concept of toll cannot end. If you want good services, you have to pay more. Toll has arisen out of compulsion.  Government does not have money.
"When I was (PWD) minister (in Maharashtra), the budget for the department was Rs 1200 crore and work sanctioned was for over Rs 15,000 crore. Has there been no toll then perhaps the 55 flyovers in Mumbai would not have been completed in 20 years. Bandra-Worli sea link, Mumbai-Pune Expressway would not have taken place," he said.
Gadkari tried to deflect the criticism that the government has failed to fulfil its promises and said Narendra Modi had asked for 60 months to rule, of which only a year has been completed for the plans to materialise.
The senior BJP leader said the government was thinking of using water-ways for commuting and is exploring options like Mumbai-Surat, Mumbai-Ratnagiri and Mumbai-Goa routes, apart from speeding up work on national highways.  
Batting for more autonomy to the states, Railway Minister Suresh Prabhu said his ministry plans to have a separate company for Maharashtra. This can help expedite the pending projects and the priority of which can be decided by the state government.
"Let the state decide on it on where it wants to develop the railways and prioritise the projects. This can put an end to the regional imbalance... Not only Mumbai, but also other growing cities need an integrated approach and increasing the infrastructure capacity," Prabhu said.
With around 7.5 million commuters travelling in local trains, he also proposed an integrated transport solution for Mumbai.
Reiterating its opposition to the Jaitapur Nuclear Power Plant, Geete, the Shiv Sena's face in the Modi cabinet, said that the party was not opposed to nuclear power projects, but to this specific project.
"We told Prime Minister that the area falls under the high seismic zone activity and it would be dangerous to have the project in the region. After Fukushima disaster and Nepal earthquake, we have seen the kind of disaster that have taken place.
"The people of the region do not want this project. Plus, by having these projects, we are giving terrorist a ready-made atomic bomb to target," Geete said. Shiv Sena, a key constituent of the NDA, has been opposing the 9900-MW project, which is to come up on the western coast of Maharashtra.