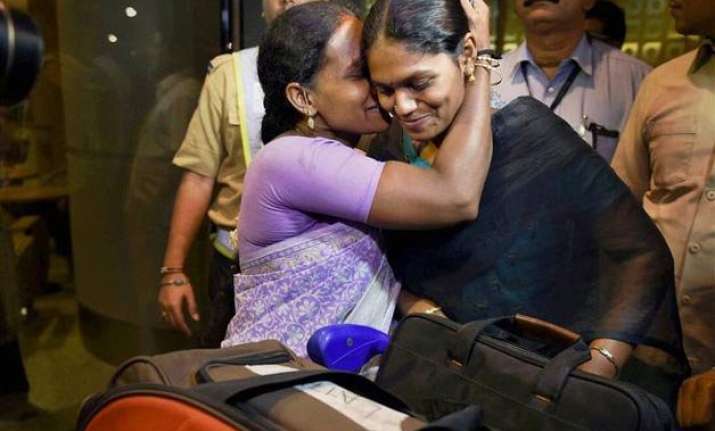 New Delhi: The first batch of 358 Indians evacuated from strife-torn Yemen is back home safely.
While 168 rescued Indians landed in Kochi, a batch of 190 landed in Mumbai. However, over 3,000 are still trapped in the strife-torn country and are hoping to return safely as soon as possible.
The two planes, C-17 Globemasters, brought these people from Djibouti after being evacuated by Indian Naval ship Sumitra from Aden, the port city of Yemen.
The flight landed at Mumbai airport at 3.30am, instead of the earlier plan of landing around 9pm on Wednesday. BJP leader Kirit Somaiya and Prakash Mehta were present to receive the passengers at the airport, apart from several other bureaucrats, including Central Railway (CR) general manager Sunil Kumar Sood.
Kerala Diaspora Minister KC Joseph, PWD Minister Ibrahim Kunjuand and their family members welcomed those who landed in Kochi airport.
"There were issues related to travel documents, including passports, and that's why the flight got delayed, to complete formalities before leaving from Djibouti," said an officer.
As quoted by DNA, a naval officer said, "some Indians are still in Djibouti, making arrangements independently to reach their respective destinations; they did not opt to reach India by Indian Air Force (IAF) aircraft".
Indian Naval Ships Mumbai and Tarkash will join escort passenger liners in bringing Indians to safety.
Saudi Arabia has been conducting air strikes in Yemen against Houthi rebels. Over 3000 Indians still believed to be stranded on Yemen.
"The situation is very pathetic there and we are very thankful to the Ministry of External Affairs. When we reached Djibouti Minister of State, External Affairs, General (retd) VK Singh was on board and he gave us a warm welcome and the Indian Air Force flight was ready," a rescued Indian said.