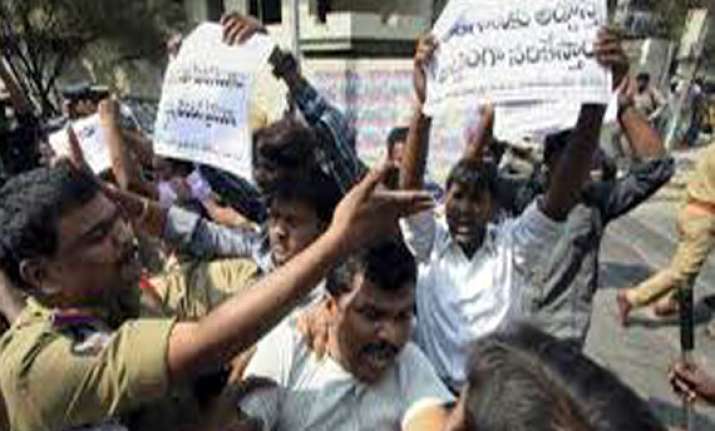 Hyderabad, Aug 2:  Stepping up pressure on Congress leadership to rescind its decision on Telangana, three ministers, 10 MLAs and four MLCs from coastal Andhra and Rayalaseema yesterday resigned as widespread protests raged in non-Telangana regions for the second day.
At the end of a four-and-a-half hours meeting at the CM's camp office, ministers Ganta Srinivas Rao, Erasu Pratap Reddy and T G Venkatesh said yesterday night that they have submitted their resignations from the Cabinet to Chief Minister N Kiran Kumar Reddy.
Sources said at least 15 others are understood to have backed out following a stern warning by the high command.
Amid the resignation drama, Congress Union Ministers and some MPs from Andhra Pradesh met yesterday in Delhi amid indications that some MPs could also quit.
Sources said while the four Union Ministers from Andhra present at the meeting have ruled out their resignations, some of the seven MPs present contemplated doing so to force the party high-command to reverse the decision on Telangana.
Compounding the woes for the ruling Congress, 10 MLAs submitted their resignations to the Legislature Secretary while four MLCs also followed suit.
Protests against Andhra Pradesh's bifurcation continued unabated for the second consecutive day yesterday with people taking out rallies and preventing public transport buses from plying. 
Protests were reported from various places in Krishna, East Godavari, Visakhapatnam, Kadapa and Anantapur districts. While the hunger strike launched by students at Andhra University in Visakhaptnam entered its third day, lawyers did not attend courts as a part of their 72-hour boycott in Visakhapatnam and other districts.
Some pro-united Andhra outfits have been observing a 72-hour shut down at places like Visakhapatnam.