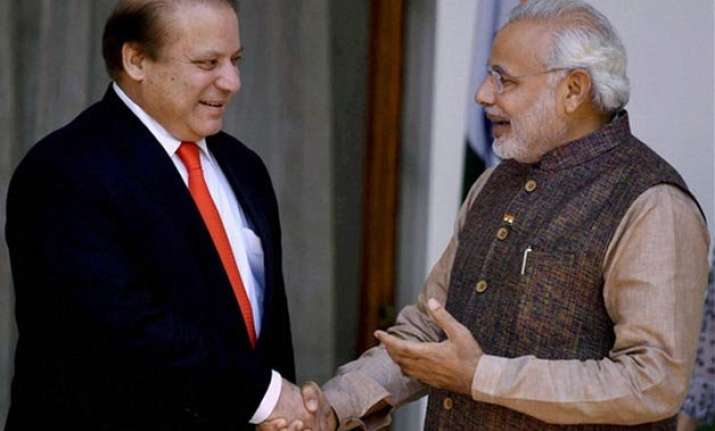 The National Security Advisor (NSA) level talks between India & Pakistan were supposed to take forward the discussions held in Ufa (Russia). The proposed NSA level meeting is now called off.  Data available with the Ministry of External Affairs (MEA) indicates that quite a few meetings (28), at various levels were held between India & Pakistan. But there is little to show in terms of real progress on ground.
The Resumption of Dialogue in 2011
India suspended the dialogue process with Pakistan in 2008 after the terrorist attacks in Mumbai. The composite dialogue process resumed with formal agreement in 2011 between the two nations. Since March 2012, 28 official interactions took place between officials at various levels from both the governments.
Under the Simla Agreement and the Lahore Declaration, India and Pakistan have committed themselves to building peaceful and cooperative ties, and to address outstanding issues through a peaceful bilateral dialogue. According to the MEA, India has consistently conveyed to Pakistan that a meaningful dialogue requires an environment free from terrorism and violence.
Number of meetings since 2012
There have been 28 meetings between India & Pakistan at various levels. Six of these meetings have been at the Prime Ministerial level, three at the Minister level, 5 at the Secretary level, 3 on the sidelines of the SAARC meetings and rest between other dignitaries.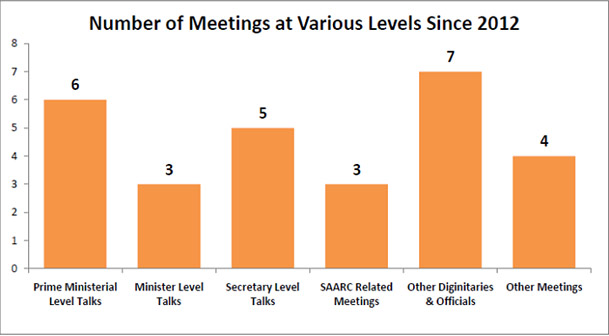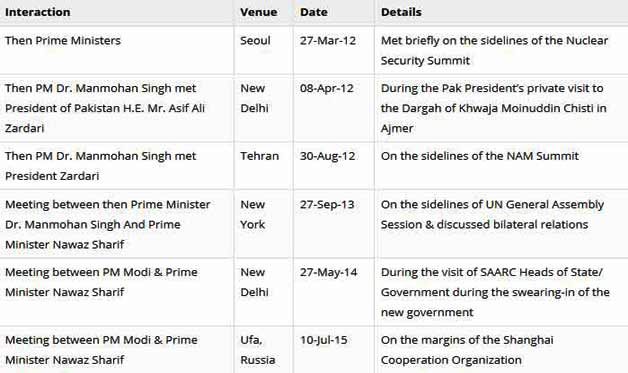 Issues discussed during these meetings
Multiple issues have been discussed during these meetings ranging from Terrorism to trade. Border related issues, Water issues & Fishermen related issues were also discussed during these meetings. While Terrorism is an agenda item in most meetings, border related issues were discussed in three meetings, trade related in four meetings, water issues in four meetings and humanitarian issues like release of the captured fishermen in one meeting.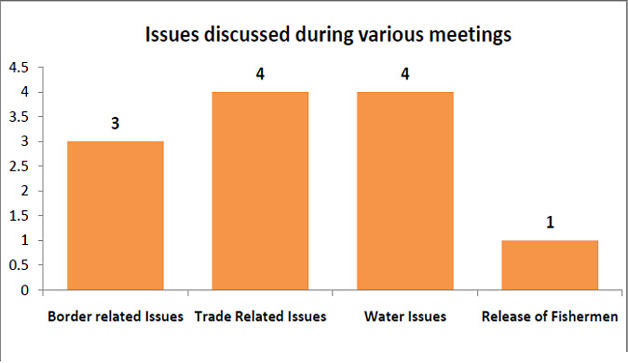 No Improvement in Trade
While quite a few meetings have taken place between the neighbors, there seems to be very little progress on ground. While hundreds of cease fire violations continue to take place each year, trade between the two countries has hardly improved.
The total value of trade (Exports & Imports) between India & Pakistan was $2.37 billion dollar in 2010-11. This has gone down to $1.94 billion in 2011-12 after the dialogue process resumed. The value of trade increased to $2.61 billion in 2012-13. It further increased to $2.7 billion in 2013-14. It again went down to $2.35 billion in 2014-15.
The share of the trade between India & Pakistan has never crossed 0.5% of India's overall trade volume. It was 0.4% in 2010-11 and went down to the lowest of 0.2% in 2011-12. In 2014-15, it was a paltry 0.3%. Much smaller countries than Pakistan have better share of trade with India.
The Silver Lining – Release of Fishermen
The silver lining of the dialogue process has been the release of fishermen lodged in jails by both the countries. Just before the visit of Prime Minister Nawaz Sharif to India, Government of Pakistan released 150 Indian fishermen in May 2014. India on the other hand released 97 Pakistani fishermen in July & August 2015.
(Rakesh has been working on issues related to Right to Information (RTI) for a decade. He is a Data/Information enthusiast & passionate about Governance/Policy issues.)