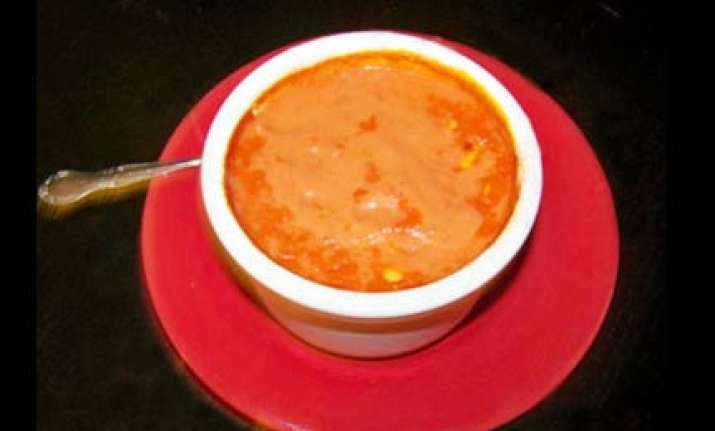 Ahmedabad: The sodium content in tomato soup powder sold in departmental stores may be higher than the norms allow.
11 varieties of tomato soup powder tested by Consumer Education and Research Society (CERS) have failed to maintain the norms of sodium level.  
The 11 varieties of tomato soup powder tested were of brands such as Hindustan Unilever (Knorr), Nestle (Maggi), MTR, Madhur, Aarkay's and Premier Foods, reports the newspaper DNA.  
According to UK Food Standards Agency (FSA) guidelines, a product which has sodium more than 600 mg/100 gm is termed as high sodium product.  
Surprisingly, all 11 varieties of tomato soup powder of the six brands contained high level of sodium. The sodium content ranged from 1203mg/100 gm (lowest) in MTR Spicy Tomato Rasam Style Soup to 7073mg/100gm (highest) in Aarkay's Hot Tomato Soup Powder (SM Grade).  
Lycopene, a carotenoid naturally present in tomatoes, is beneficial for health.
Therefore, higher level of lycopene in tomato soup powder makes it more nutritious.  
Out of the 11 varieties tested, Aarkay's Tomato Soup Powder (M Grade) Jain had lowest 0.4gm/100 gm lycopene content, while Knorr Indian Soups Tomato Chatapat had highest 10.20 gram lycopene content.  
UK FSA considers products with sugar content more than 15gm/100gm as high sugar products.
Six varieties had sugar content higher than UK FSA norms with Madhur Instant Real Tomato Soup Powder containing the highest amount at 25.9gm/100 gm.
Moreover, Madhur Instant Real Tomato Soup Powder did not give any nutritional information on the label and the 'vegetarian logo' was also missing, thus not complying with the labelling requirements of PFA rules, said CERC in a statement.  
There are no Indian Standards for tomato soup powder and so there is no limit for salt, sugar and lycopene content.  
So CERC used UK FSA guidelines for determining the salt and sugar limits in the test of 11 varieties of tomato soup powder, said the statement.