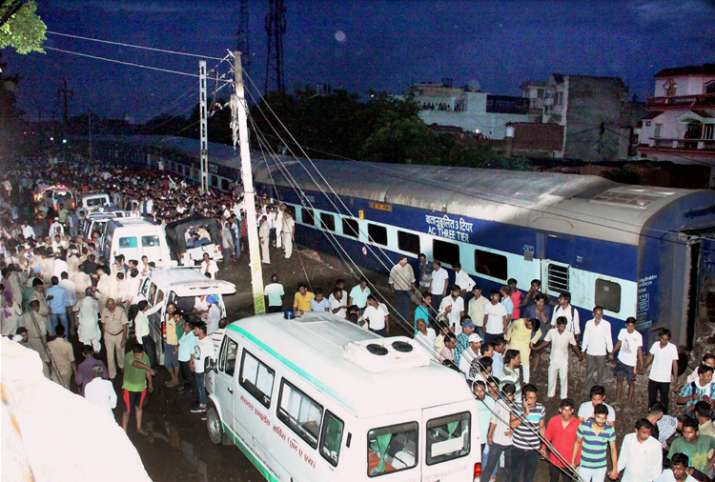 14 coaches of high-speed Utkal Express derailed near Khatauli in Muzaffarnagar on Saturday evening, claiming at least 23 lives and leaving several injured. The train was coming from Puri in Odisha and going to Haridwar in Uttarakhand, normally a journey of about 36 hours. 
While the initial reports said that 14 coaches of the train derailed, with one of them crashing into a house adjacent to the track, a senior railway official said 13 bogies of Puri-Haridwar Kalinga Utkal Express went off track.
"The train had 23 coaches out of which 13 had derailed. It was running at a speed of about 100 kmph when the accident took place," R N Singh, DRM of the Delhi Division, told PTI. Delhi Division falls under the Northern Railway Zone, which administers some of the busiest stations in the country. 
Also Read:Utkal Express derailment: 23 dead, 90 injured in accident; initial probe indicates human error
With the rescue operation "practically over", the track repair work was underway this morning. 
Deepak Agarwal, Commissioner, Saharanpur Division and District Magistrate, Muzaffarnagar, G S Priyadarshi said the official figure of bodies in the mortuary was 21, while another body, of a woman, was being pulled out. 
Railway ministry officials in Delhi, however, put the number of dead at 12 and the injured around 75.
Also Read: Utkal Express derailment: Train driver was not informed of 'unofficial' maintenance of track
Here are the helpline numbers launched by Indian Railways to assist families of those affected:
Delhi: 01123962389/01123967332 
New Delhi: 01123342954/01123341074 
Nizamuddin: 01124239748 
Ghaziabad: 09412715210 
Muzaffarnagar: 0131-2433099 
Moradabad: 05912420324 
Roorkee: 09760534056 
Haridwar: 09760534054/01334227477/01334227478/01334227479/01334227480
Muzaffarnagar authorities have also set up a control room.  
The numbers are: 0131-2436918, 0131-2436103 and 0131-2436564.