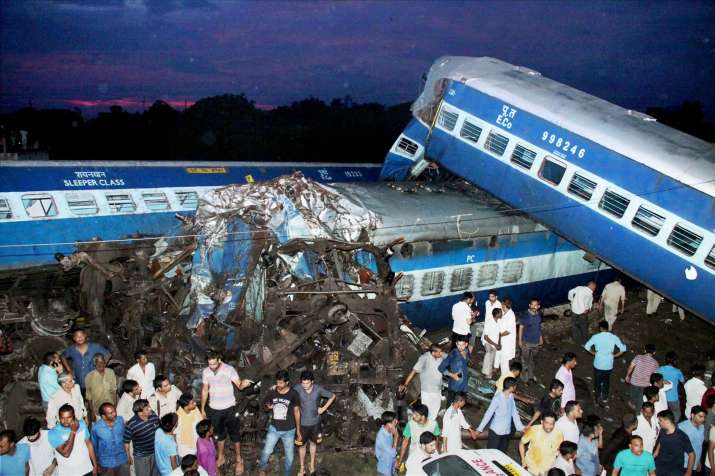 A preliminary inquiry into the derailment of Utkal Express has found that driver of the train was not informed of the 'unofficial' maintenance of the track. 14 coaches of the high-speed Utkal Express derailed near Khatauli in Uttar Pradesh on Saturday evening, killing at least 23 people and leaving nearly 90 others injured.  The train was coming from Puri in Odisha and going to Haridwar in Uttarakhand.
The Times of India quoted an official as saying that railways staff was engaged in "unofficial" maintenance of the track at the time of the mishap. Railways officials resort to the practice of "unofficial" maintenance of tracks on many occasions as they don't get free blocks due to heavy traffic while being under pressure to maintain the track on time, a source told the newspaper. "Unofficial" maintenance means there are not speed restrictions through red flag or signal warning on the route while the work is on.
As the driver was not informed of the maintenance work, the train was running at a speed of 106 kmph while the speed limit during track maintenance must be around 10-15kmph. The railways staff failed to put any warning or sign on the track.
Also Read: Utkal Express derailment: 23 dead, 90 injured in accident; initial probe indicates human error
A senior official of the engineering department of Northern Railways was present on the spot at the time of accident, the TOI reported.
According to a Hindustan Times report, at least 15 metres of the track had been taken off and was being replaced when the train appeared, Railway officials said. Labourers were working on the track and ran towards safety on seeing the train only metres away, leaving the equipment and the replacement track.
The initial probe has revealed that even the Khatauli station staff was not aware that the repair work was still underway, the report said.
"If alert had been sounded, then the Utkal Express would not have reached Khatauli," a railway official said.
Also Read: Utkal Express derailment: Nightmare at Khatauli for passengers, locals 
A local present on the site corroborated that there was some work going on at the track when the accident took place. Jagat Ram told a TV channel that the rail track in the area were being repaired over the last two days.
"Two other trains that passed through the area before this train had slowed down. This one did not. It came really fast and rammed into the house," he said. 
Meanwhile, Railway Minister Suresh Prabhu has ordered an inquiry into the derailment. He said he was personally monitoring the situation and strict action will be taken in case of any lapse. 
Uttar Pradesh Police also carry out an investigation into the accident but so far "there was no information" of any terror angle.
"UP ATS will investigate into the causes of the accident," DGP Sulkhan Singh said adding that so far there was evidence of terror 
angle.