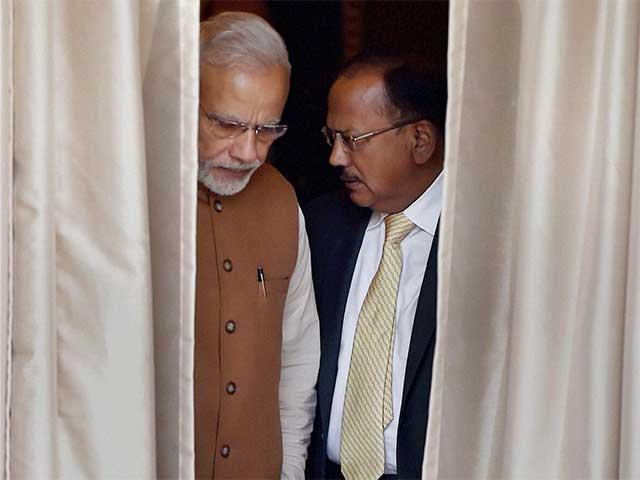 Amid simmering tension between India and Pakistan in the aftermath of Uri terror attack and growing calls for action against the perpetrators of the crime, Prime Minister Narendra Modi was on Tuesday night seen at army's war room near his South Block office chalking out New Delhi's next course of action.
According to well-placed sources, PM Modi was briefed about various terror locations in Pakistan. While his presence would have otherwise not derived much significance, it was the timing and the presence of the senior-most functionaries of India's security apparatus that made it important. 
Present alongside PM Modi at the war room were NSA Ajit Doval, Army Chief Dalbir Suhag, Airforce Chief Arun Raha and Naval Chief Sunil Lamba. 
Sources told India TV that details on how terror modules operating in Pakistan could be busted were discussed at the meeting.
A map showing specific terror locations in Pakistan were shared with the Prime Minister. Sand-modelled replicas of the enemy's properties were also placed before him. 
Service chiefs of the three forces then briefed the PM on how strikes will be carried out in the event of a strike on the locations. Complete details regarding the coordination between the Army, Navy and Air Force were briefed to the PM along with their individual preparedness and capabilities.      
This was PM Modi's third visit to the war-room. He had earlier sought crucial details related to army and security but the situation was different then.   
Earlier, India tore into Pakistan's Kashmir narrative at the UN General Assembly session,describing it as terrorist state and accusing it of carrying out 'war crimes' against Indians through its 'long-standing policy' of sponsoring terrorism.
First Secretary in the Permanent Mission of India to the UN Eenam Gambhir said, "The worst violation of human rights is terrorism." 
"When practised as an instrument of state policy it is a war crime. What my country and our other neighbours are facing today is Pakistan's long-standing policy of sponsoring terrorism, the consequences of which have spread well beyond our region," she said. 
"Land of Taxila, one of the greatest learning centers of ancient times, is now host to the Ivy League of Terrorism - India responds @un," India's Permanent Representative to the UN Ambassador Syed Akbaruddinn tweeted.
India has also upped the diplomatic heat on Islamabad ever since it openly fanned the flames of the ongoing unrest in Kashmir.
Earlier, Pakistan Prime Minister Nawaz Sharif in his address to UN genreal assemblyon Wednesday majorly raised the Kashmir issue at the UN General Assembly, saying that Pakistan fully supports Kashmiris' right to self-determination and demanded an "independent enquiry" into the "extrajudicial killings" in Kashmir.
Sharif said that Hizbul militant Burhan Wani, whose killing on July 8 sparked off the current unrest in the Kashmir valley, had become "the symbol of the new Kashmiri intifada that was led by common Kashmiris."