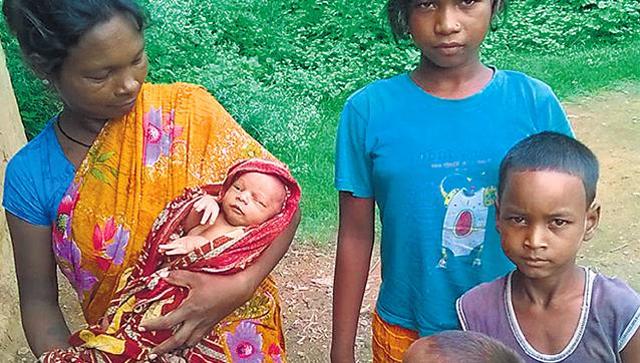 Ranchi/ Ramgarh: In a shocking incident, a widow belonging to the primitive Bihor tribe from Jharkhand allegedly sold her three-day old baby for Rs 2,000 to a man from Chatra district, apparently to carry out a ritual that required her to sacrifice two male goats.  
According to a report , Aano Devi, aged around 40, sold her son barely two days after he was born for Rs 2,000 to buy two male goats to Kedar Sahu, a Chatra-based businessman, on July 10. The baby has, however, been recovered and returned to her, as reported by Hindustan Times.
As per reports, the woman had traded her child to a businessman for buying two male goats, which according to rules of the Birhor tribe are required to be sacrificed by any family 'blessed' with a newborn to appease the forest gods.
Devi said she took the step to provide the infant with "a better life". But that was just half the story.
Probe revealed that the fellow villagers had demanded two white male goats for a community meal from Devi after she gave birth to the infant. Failing to do so would result in the forest gods frowning upon her, they threatened. 
The fear of being branded an 'atheist' forced Devi to sell the child, so she could buy the animals with the money received.
Devi told Hindustan Times that she wasn't left with any options. "My husband died six months ago — leaving behind four children to look after. I sold datun (a twig used as a toothbrush) and ropes to make ends meet, but still managed just two square meals a day. The newborn was an additional burden."
As heartless as it may sound, Devi was unhappy after recovering her child, sources said. She now faces the daunting task of repaying the money which Sahu gave her and is open to the idea of giving the child away for adoption. The infant was retrieved from Sahu's possession and returned to Devi after the Ramgarh administration received a tip-off from people in the neighbourhood, officilas said.
"Now that the child is returned, Sahu wants his money back. I have spent half of the amount on tonsuring the child's hair," she added.
Meanwhile, Block Development Officer Jail Kumar Ram has said that the administration would help Devi and put her child up for adoption, if she was willing. 
"But, at the same time, we will provide her with all social welfare benefits needed to feed her children and secure their future"