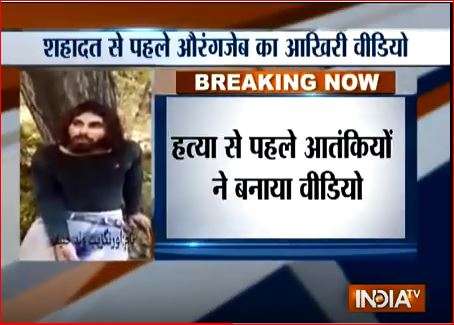 The terrorists who killed 44 Rashtriya Rifles jawan Aurangzeb,  released the last video of the martyred soldier on Friday.
The video was reportedly shot minutes before the terrorists killed Aurangzeb.
In the video, Aurangzeb is seen being interrogated by the terrorists.
The terrorists have uploaded Aurangzeb's last video on the social media.
In the video, Aurangzeb is seen wearing black T-shirt and blue jeans and he answers the queries of the terrorists bravely.
Aurangzeb confessed that he, along with Major Shukla, killed many terrorists in Kashmir.
Aurangzeb told the terrorists that he killed at least three top commanders of Lashkar and Jaish-e-Mohammad(JeM). 
The bullet-ridden body of Aurangzeb was recovered from Gussu village in Pulwama district on Thursday evening, hours after he was abducted by terrorists on his way home for Eid celebrations.
Aurangzeb was abducted by terrorists at Kalampora in Pulwama Thursday morning when he was on his way home in Rajouri district for Eid celebrations.
According to police, Aurangzeb was shot in his head and neck.
Aurangzeb belonged to 4 Jammu and Kashmir Light Infantry and was posted at the 44 Rashtriya Rifles camp at Shadimarg in Shopian.
Meanwhile, in an emoitional outburst, Aurangzeb's father Mohammad Haneef on Friday gave an ultimatum to the government for avenging the killing of his son. He has warned that if the government fails to do so then he will take the revenge on his own.
"Am giving Narendra Modi 72 hours for avenging my son's killing, otherwise we are ready to take revenge on our own," Aurangzeb's father said.
Watch: Last video of martyred soldier Aurangzeb