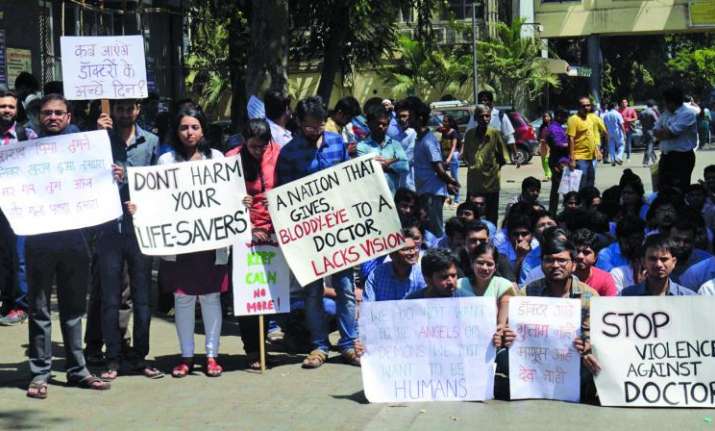 With the strike by the resident doctors in Maharashtra continuing for the fourth day despite warnings by the Bombay High Court and the Maharashtra government to join duty, the government today cracked down in the agitating doctors, suspending 440 doctors at Nagpur's Mayo Hospital on Thursday. 
Meanwhile, private doctors have also extended their support to the strike by the resident doctors and have decided to close the OPD from afternoon today. 
On Wednesday, the Directorate of Medical Education and Research (DMER) had asked college deans of 16 government colleges to expel 2,400 resident doctors. This included the suspended 440 doctors from Nagpur and 609 in total from Vidarbha. 
On the other hand, around 40,000 doctors in the national capital have decided to go on mass leave in protest against the attack on a doctor at Sion Hospital in Mumbai. 
According to ANI, medical services at about 40 hospitals in Delhi will be shut altogether on Thursday.
Notably, around 1,200 junior doctors turned up at work at the All India Institute of Medical Sciences (AIIMS) in New Delhi on Wednesday wearing driving helmets. The token protest was to support the call by Maharashtra doctors for a secure environment for doctors to work. Their demand comes after a string of attacks on doctors by relatives of patients.  
With another attack on a resident doctor by a patient's relatives at Mumbai's Sion Hospital on Wednesday night has dashed the hope of any solution. It is the second such case at the hospital in the past four days. 
The strike by Maharashtra doctors began after a resident doctor was brutally beaten up by the relatives of a deceased patient at Mumbai's Sion Hospital.
Around 4,000 doctors have stayed away from work since Monday demanding better security at hospitals in the wake of a string of attacks on them.
Top government hospitals such as AIIMS, RML, Safdarjung are among all Delhi government hospitals, which will remain closed on Thursday. 
The BMC, on Wednesday, had issued notice to around 500 resident doctors in Mumbai, directing them to resume work or face disciplinary action.
The government, in a stern warning to the protesting doctors, said that if they fail to resume work by 8pm on Wednesday, they will not be paid salary for the next six months. 
Following this, Maharashtra Medical Education Minister Girish Mahajan claimed last evening that following successful talks, the resident doctors in government hospitals 

would be resuming the duty from Wednesday night.
However, defying threats of suspension and termination, the resident doctors have decided to continue their stir. 
The strike is set to intensify and take a pan-India colour with 40,000 doctors from the Indian Medical Association and resident doctors from Delhi lending their support to protest against violence against the fraternity.