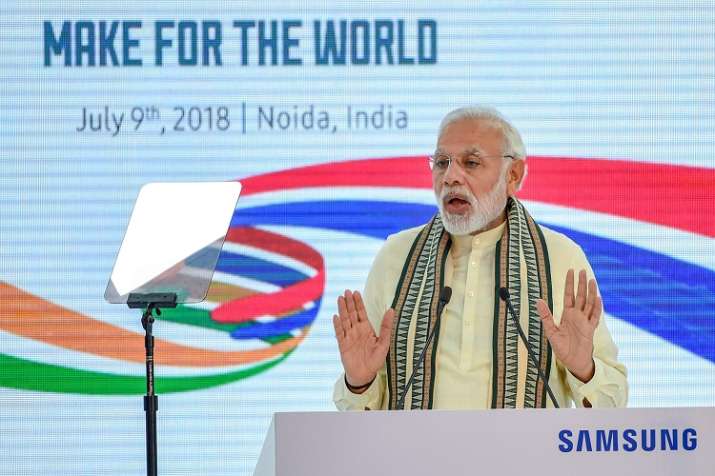 Prime Minister Narendra Modi and South Korea President Moon Jae-in inaugurated a Samsung Electronics mobile phone manufacturing facility, billed as the world's largest, in Noida on Monday.
The 35-acre factory would not only generate more jobs but also make India a global export hub, Modi said.
Hailing his government's 'Make in India' initiative, PM Modi said that the move has propelled India to become the world's second-largest manufacturer of mobile phones as the number of factories soared to 120 from just 2 four years ago.
"Our push for Make in India is not just part of our economic policy but a commitment for bilateral ties with countries like South Korea," he said. 
Modi said four lakh direct jobs have been created as the number of factories making mobile phones increased. 
"Today is an important day in making India a global hub of manufacturing," he said, adding that the investments in such factories are a cornerstone of India's economic and commercial engagements with countries like South Korea. 
Indian economy, the fastest growing major one in the world, as well as a vast expanding neo-middle class offer unlimited opportunities, he said. 
The prime minister said India has 40 crore smartphones in use and 32 crore people using the broadband internet. 
The country, he said, is marching towards a digital revolution with the availability of cheap internet data and fibre optic network reaching more than one lakh village panchayats.
"Cheaper mobile phones, high-speed internet, and cheap data are ensuring fast and transparent service delivery," he said. "India today is the second bigger manufacturer of mobile phones." 
The government is procuring directly from producers using GeM (government e-marketplace) to the benefit of small and medium entrepreneurs, he said, adding electricity and water bill payments as also school/college admissions and PF and pension are available online. 
While about 3 lakh common service centre have taken internet services to villages, free Wi-Fi hotspots in urban areas are giving wings for aspirations of poor and middle class, he said. 
The factory, built by South Korean phone maker Samsung Electronics, will have the capacity to fabricate 120 million smartphones per year and make everything from low-end smartphones to the company's flagship S9 model. 
Modi said 30 per cent of the phones manufactured at the factory, built at a cost of Rs 5,000 crore, will be exported. 
Stating that Korean products can be found in almost all middle-class homes, he said Samsung is a world leader in the smartphone market. 
Samsung, he said, had an R&D hub in India and now has a manufacturing base too. 
Speaking on the occasion, Korean President Moon Jae In said Korean companies are taking part in the fast-paced growth of India and plant like the Samsung factory will create more jobs for Indian people. "2,000 new jobs will be generated in this plant," he said. 
Stating that smartphones made at the factory will be exported to the Middle-east and Africa, he said Korean government will do utmost to provide all support. 
South Korean President lauded young and enterprising Indians and also the country's software prowess, and noted Korea's strength is in commercial technology and hardware. India and Korea have complementary strengths, he said. 
President Moon Jae-in underlined the importance of the old link between the two countries and said the new plant will create a new IT civilisation forged in the sweat of Indian and Korean workers.
Speaking at the function, Uttar Pradesh Chief Minister Yogi Adityanath said it was an important occasion for everyone. He too touched upon how Korea and Uttar Pradesh had a historic relationship when the princess of Ayodhya was married to a Korean prince. He said the factory would give over 35,000 jobs directly and indirectly and hence the UP Government ensured that the unit got the infrastructure and policy help it needed.
Earlier Modi and Korean President Moon Jae-in took a ride in the Delhi Metro train. The two leaders, during the journey from the national capital to this town, exchanged notes and waived at commuters at stations en-route. Modi was seen explaining finer points during the ride as eager commuters on stations waived and clicked pictures of the two leaders from their mobile phones. 
Global phone makers are eying the world's fastest growing smartphone market, where shipments surged 14 per cent to 124 million in 2017. It overtook the US last year to become the world's second-largest smartphone market after China.