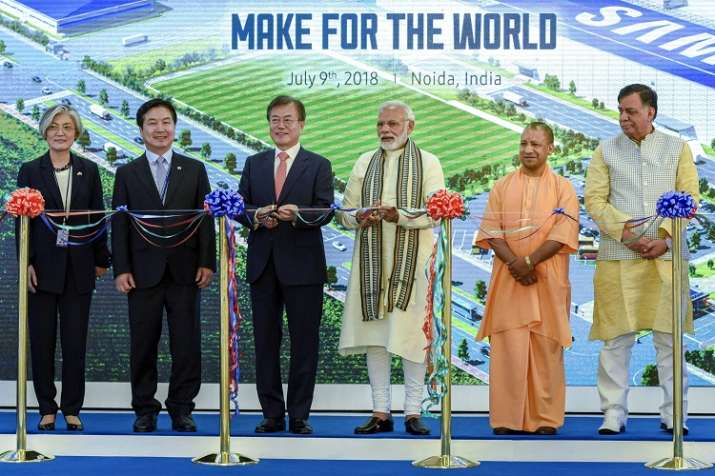 Samsung Electronics on Monday announced the opening of the world's biggest mobile phone manufacturing facility as the South Korean tech group seeks to expand production in the world's fastest-growing major mobile phone market.
The factory, inaugurated jointly by Prime Minister Narendra Modi and South Korean President Moon Jae-in, will also help Samsung to compete with rivals such as China's Xiaomi, which became India's biggest smartphone brand by shipments earlier this year.
Speaking at the inaugural ceremony, Prime Minister Modi said that the new unit will be a matter of pride for not just India, but Uttar Pradesh and Noida. He said this was an important milestone in the path to make India a manufacturing hub. "Samsung's global R&D hub is in India. Now, this manufacturing unit is also coming here," he said, adding that there is hardly a middle-class family in India without a Korean product.
President Moon Jae-in underlined the importance of the old link between the two countries and said the new plant will create a new IT civilisation forged in the sweat of Indian and Korean workers.
Uttar Pradesh Chief Minister Yogi Adityanath said it was an important occasion for everyone. He too touched upon how Korea and Uttar Pradesh had a historic relationship when the princess of Ayodhya was married to a Korean prince. He said the factory would give over 35,000 jobs directly and indirectly and hence the UP Government ensured that the unit got the infrastructure and policy help it needed.
Samsung, which has been assembling phones in India since 2007, also plans to export India-made handsets, the company said in a statement.
The new facility will help Samsung double its current capacity for mobile phones in Noida to an annual 120 million units after the phased expansion plan is complete, the company's statement said.
"Our Noida factory, the world's largest mobile factory, is a symbol of Samsung's strong commitment to India. We 'Make in India', 'Make for India' and now, we will 'Make for the World'. We are aligned with government policies and will continue to seek their support to achieve our dream of making India a global export hub for mobile phones," said HC Hong, chief executive officer, Samsung India. 
The Noida factory, which was set up in 1996 , is one of the first global electronics manufacturing facilities set up in India.