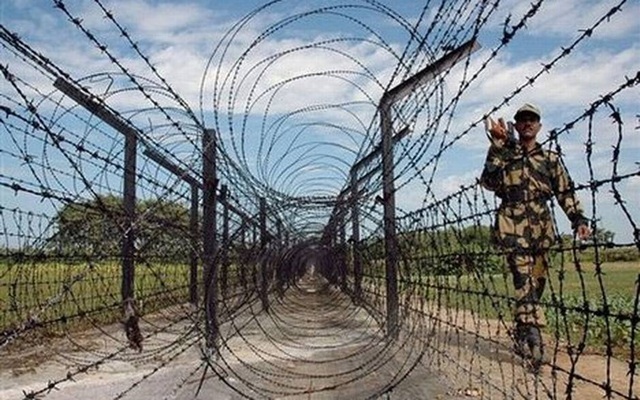 India has identified 140 vulnerable locations, deployed more security personnel and surveillance gadgets, and launched a "campaign" against organised criminal gangs that help Rohingyas sneak across the India-Bangladesh border, the BSF chief on Friday said.
The Border Security Force (BSF) concluded its bi-annual four-day talks with their counterparts, Border Guard Bangladesh (BGB), and chalked out plans to keep a vigil on the "spillover effect of the Rohingyas crossing over to India."
BSF Director General (DG) KK Sharma and the visiting BGB chief, Major General Abul Hossain, addressed the media at the end of their talks that began after the Bangladeshi delegation arrived here on 2 October.
The BGB DG said they have assured the BSF that the policy of the Bangladeshi government is very clear and "does not allow" their soil to be used for any kind of terrorist activity, neither in their country nor against its neighbour India.
Hossain said his country was also planning to have a fenced border with Myanmar.
Sharma said both the sides discussed the issue of Rohingyas.
"We are both aware that the issue is very very serious as large number of Rohingyas have entered Bangladesh. You are very right in apprehending that the spillover effect of the Rohingyas crossing over to India is also very genuine. Both of us (BSF-BGB) have taken steps.
"The BGB has ensured that their (Rohingyas) movement is being regulated and they have mounted some nakas and check posts on various routes to ensure that they do not cross over to our side," the BSF DG said.
He added that "140 vulnerable border posts" along the 4,096-kilometre long India-Bangladesh border – that can be exploited for illegal crossing over of Rohingyas – have been identified by the BSF. These posts, Sharma said, are being "strengthened by us by deploying more manpower and by technological inputs and gadgets."
The surveillance equipments, the BSF chief said, have been "diverted" from other BSF posts and deployed all along the eastern frontier.
"We are also in touch with our sister agencies, the intelligence agencies, to identify and take action against the touts. Because, these people (Rohingyas) cannot come on their own. There are organised criminals on both the sides who assist in their crossing over to India. So, we are mounting the campaign against the touts," DG Sharma said.
He added that the border guarding force has "sensitised" the local population to inform them about people trespassing across the border.
The BSF DG said the force is constantly in touch with the BGB on a daily basis. "...our commanders on the border can speak to each other quickly and share intelligence on any movement of Rohingyas."
The BGB DG said his country has already begun the mandatory registration of all Rohingyas entering Bangladesh.
"This is a problem in Myanmar and this is not our problem. Five lakh people have already come to Bangladesh. But, this is a problem for our country also...they (Rohingyas) cannot spread all over the country.
"Our government has taken a decision and the Rohingyas have been put in the Cox's Bazar district," he said, adding they have identified the exit and entry points (of Rohingyas) which are being guarded properly.
"We have started the registration of these people...we have declared that anybody without registration will not be given any facilities. We have also informed our people in the country to inform about any such person to law enforcement agencies," Hossain said.
He added that Myanmar has told Bangladesh that they will "soon form a joint working committee to find out Rohingyas and take them back."