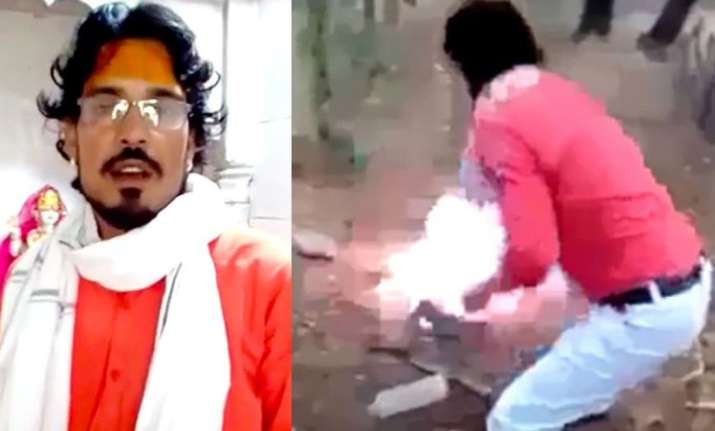 The preliminary investigations have revealed that addiction to hate videos, not 'love jihad' drove Shambhu Lal Raigar to brutally kill a 48-year-old Muslim labourer in Rajasthan's Rajsamand district, the police said on Friday. 
Mohammand Afrazul from West Bengal was hacked and burnt to death in Rajsamand by Shabhu Lal Raigar, who was seen ranting against 'love jihad' in a video that was shot and uploaded on the internet by his minor nephew.
Raigar later told reporters that he killed Afrazul to rescue a Hindu girl who had eloped with the labourer. However, police investigation revealed that Afrazul had not connection with the incident.
The police say their inquiries reveal that Raigar, a father of three, was obsessed with watching hate videos on his phone and was part of rabid groups.
He lives in a tiny colony in Rajsamand town, in a joint family. His parents work in Anand in Gujarat.
His oldest daughter is 16. The youngest, 13, is seen in one of the hate videos he filmed and circulated.
He was reportedly in a financial mess. He was earlier involved in the marble trade but had not done any business for the past year, according to the police.
"The accused, Shabhu Lal Raigar, said that he committed the crime over 'love jihad', but it has not been established so far that any such theory was behind the killing of the labourer," Inspector General of Police, Udaipur, Anand Srivastava said.
The accused was sent to three days in police custody and his nephew to a juvenile home by a court in Rajsamand.
The police is interrogating Raigar to ascertain the motive, the officer said.
"Nothing conclusive can be said at the moment, but preliminary investigation suggest that there was nothing like 'love jihad'. However, the matter is being thoroughly probed on all angles to find out the motive," Superintendent of Police Manoj Kumar said.
The video of the gruesome incident went viral on social media on Wednesday and a day later Raigar was arrested and his nephew detained. He is seen raving against 'love jihad', a term used by sections of Hindu activists to describe marriages between Hindu women and Muslim men.
Meanwhile in Kolkata, Banerjee asked the West Bengal director general of police to speak to his Rajasthan counterpart and ensure security to nearly 3,500 labourers from West Bengal working in that state.
"This is a very sad incident… Cannot even think of this. There must be strong and exemplary action against those responsible for the heinous crime," Banerjee said.
Senior TMC leaders, including ministers Firad Hakim and Suvendu Adhikary, and party MPs are slated to go to Malda district tomorrow to visit the labourer's family, who have described Afrazul as their sole earning member and demanded strict action against Raigar.
With inputs from agencies