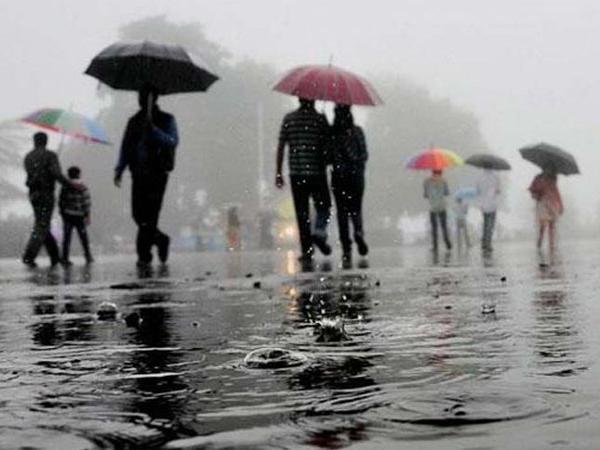 Rains lashed Delhi on Monday evening, making it pleasant for the people even as it increased the humidity in the air. The maximum temperature was recorded at 25.4 degrees Celsius, normal for this time of the year, while the minimum temperature settled at 9.2 degrees, three notches below the season's average, a weather official said. The humidity oscillated between 95-45 per cent.
The weather office has predicted overcast conditions along with the possibility of light-to-moderate rainfall and thundershowers with strong surface winds for Tuesday. "The maximum and minimum temperatures are likely to hover at 22 and 13 degrees respectively," the official said.
The pleasant weather has taken people living in Delhi-NCR region. Several people took to Twitter to express their surprise.
It's amazing how the beauty of nature fills us, holds us dumbstruck and thrills us, when the rain comes, weeping are the clouds to send their love to the beloved grounds. #DelhiRains ❤️😍

— Krishna Dwivedi (@krishnadw2017) February 25, 2019
@TGINatural @Itsnaturelover #delhi #DelhiRains Everyone wants happiness no one wants pain...but u cant have the rainbows 🌈 without a little rain 🌧. pic.twitter.com/cPF1hxNJrl

— HOPE💎 (@hopeforu90) February 25, 2019
A wonderful rainy evening here in #Delhi minus all the traffic snarls that come with such weather! @IndiaTourism_EU @incredibleindia @Canon_India #delhi #rains #delhirains #photography pic.twitter.com/3GF2ntT7mR

— Bobby Roy (@theCanonFanboy) February 25, 2019
Noida sky right now. Energetic play of positive and negative ions. #rain #DelhiRains (filters added) pic.twitter.com/FyCKeMxHgh

— 🇮🇳Sandeep Shrivastwa (@SandeepAndesTOI) February 25, 2019
https://twitter.com/iamanjali16/status/1100032975582855170
#Lightning with #thunder and #hailstorm over most parts of #Delhi. Intense #winter #rains. Strongest storm of the year yet.#WinterRains #DelhiRains #Winter pic.twitter.com/qE31pDcsWA

— Deepak R. Sridhar (@DeepakRSridhar) February 25, 2019
#Rain in #Noida has begun. Expect rains to continue. #DelhiRains pic.twitter.com/qzM56qzEL0

— SkymetWeather (@SkymetWeather) February 25, 2019
(With inputs from PTI)